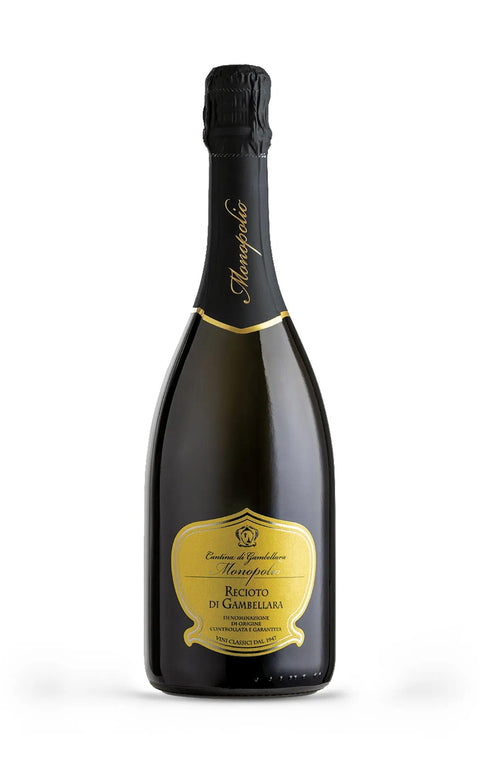 Recioto Classico di Gambellara Spumante DOCG - Cantina di Gambellara
Elegant Aromatic Creamy
What do we mean by these definitions? Click HERE to find out!
The Recioto Classico di Gambellara Spumante DOCG from Cantina di Gambellara is a wine that enchants at the first sip. Made with Garganega grapes, this sweet sparkling wine is a triumph of aromas and flavors. Its production follows traditional methods, with slow fermentation that preserves the aromatic richness of the grapes. Visually, the wine presents itself with a golden-yellow color, bright and captivating. On the nose, it offers a complex bouquet of candied fruit, honey, and floral notes. On the palate, it's an explosion of sweet and fruity flavors, balanced by a pleasant acidity that enhances its drinkability. Ideal for pairing with fruit desserts or blue cheeses, it's also perfect as a meditation wine.
Denomination: Recioto di Gambellara DOCG
Vintage: NV
Dosage: Sweet
Grape variety: Garganega
Region: Veneto (IT), Montecchio Maggiore (VI)
Refinement: Steel
Serving temperature: 8/10°C
Alcohol content: 12% vol.
a Cantina di Gambellara, situata a Gambellara in provincia di Vicenza, è una storica cooperativa vinicola fondata nel 1947 da un gruppo di 26 viticoltori associati. Questa cantina è diventata la prima cooperativa vinicola nella provincia di Vicenza. La cantina è specializzata nella produzione di vini DOC come Soave, Gambellara e Lessini Durello. This area enjoys volcanic and morainic soils particularly suited to the cultivation of vines given the temperate climate and sunny exposure. Thanks to advanced and modern winemaking techniques, the cellar is able to produce genuine and quality wines that fully reflect its territory.