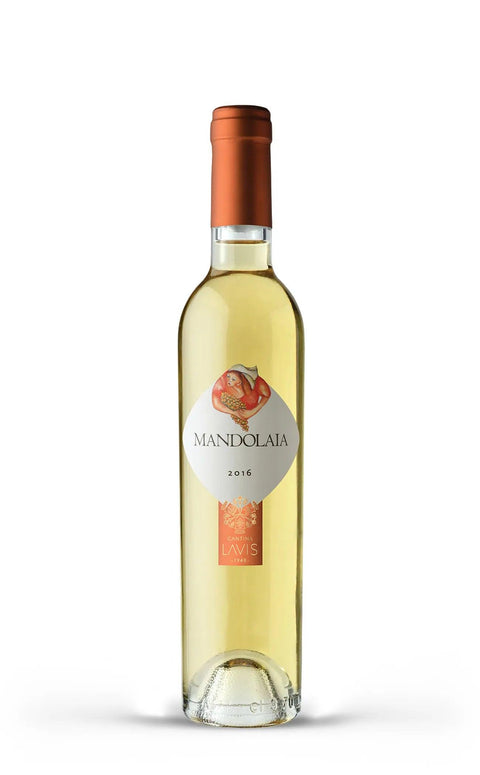 Passito Bianco Mandolaia Vigneti delle Dolomiti IGT 2019 (375ml) - Lavis
Aromatic Sapid Floral
What do we mean by these definitions? Click HERE to find out!
The Passito Bianco Mandolaia Vigneti delle Dolomiti IGT is a sweet wine that captivates the senses. Produced in the mountain vineyards of Giovo and Pressano, this wine is a refined blend of Gewürztraminer, Sauvignon, Riesling, and Chardonnay grapes. The grapes are naturally dried on the vines, taking advantage of thermal fluctuations and late autumn cold. The result is a wine with a deep, bright straw color enriched by antique gold tones. On the nose, Mandolaia is a riot of tropical sensations, with dominant notes of pineapple and candied fruit, followed by nuances of aromatic herbs like thyme and sage. On the palate, the creaminess of the soft sensations evokes the flavor of syrupy peaches and apricots, while the sapidity provides liveliness and great balance to the wine. This wine is ideal as a companion for desserts or for moments of meditation.
Denomination: White Vineyards of the Dolomites IGT
Vintage: 2019
Dosage: Sweet
Grapes: Gewürztraminer, Sauvignon, Riesling and Chardonnay
Region: Trentino Alto Adige (IT), Lavis (TN)
Refinement: Steel
Service temperature: 15°C
Alcohol content: 10.5% vol.
Cantina Lavis is one of the most renowned cooperatives in Trentino and has its headquarters in the municipality of La-Vis where it was founded in 1948. Nowadays there are about 800 members contributing to about 750 hectares of vineyards with an altimetric layout that varies from 200mt to 800mt guaranteeing organoleptic richness and variety; the fine and elegant white vines are grown in the mountains, while the intense and structured reds are grown in the hills. The wines of the Cantina di Lavis and Valle di Cembra are a representation of the winemaking tradition that combines nature with technique in a mountain context that is unique in the world.