Short supply chain and optimal conservation
All our wines are purchased directly from the cellars, with a careful eye to conservation during transport and in our air-conditioned warehouse. Even our physical Enoteca is temperature-controlled to guarantee our customers the integrity of each wine.
Fast delivery with safe and certified packaging
We ship internationally every working day, from Monday through Friday and the order will reach you depending of your location usually under 5 days of transit. Outside EU orders will be shipped and received within 7/14 days.
Secure payments through the PayPal circuit, guarantee of online purchases thanks to the traceability of each transaction. Payment is allowed by credit card, PayPal account, Satispay, bank transfer.
Competent and very kind! Divine wines! It is a real pleasure to have such a shop available

Assortment, competence, customer care. highly recommended
Great variety of Italian wines, amazing recommendations and the
possibility of tasting different styles of wines! All in all one of the
best wine shops we came across in Italy during our vacation. Thanks you!

Excellent wine shop and excellent guys .. You can perceive their passion for wine.. they guide and advise you in choosing with the tasting of
various nectars 🍷🍷🍷🍷 highly recommended!
Place with many qualities of wine, clean and refined environment here you can indulge yourself in your choice from bubbles to more full-bodied wines. To visit
"
Worldwide shipping!
Discounted Shipping to US from 650$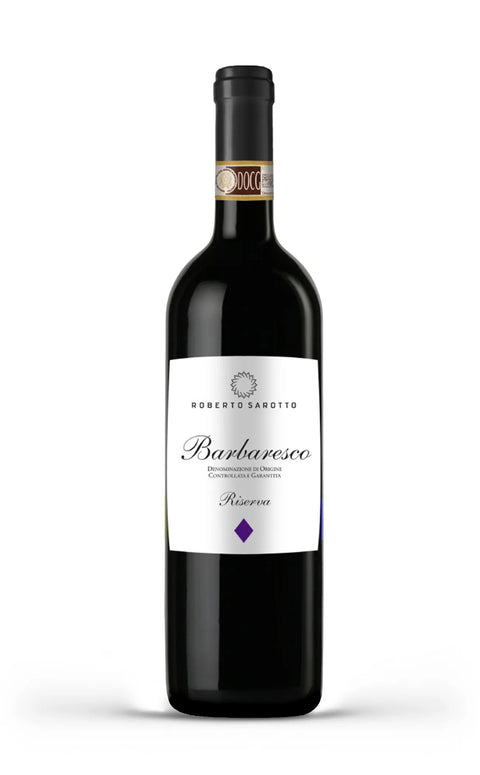 Barbaresco Riserva DOCG 2018 - Roberto Sarotto
Immerse yourself in the wine experience of Roberto Sarotto's Barbaresco Riserva, a wine that represents the pinnacle of Piedmontese excellence. Made from carefully selected Nebbiolo grapes, this wine is a sensory journey through notes of oak, tobacco, and vanilla. Its structure is comparable to a historic building: solid, yet with details that reveal its complexity. The bouquet evokes a secret garden of aromas, while the palate is an intricate weave of flavors and silky tannins. Ideal for pairing with red meats and aged cheeses, this wine is an excellent choice for those seeking an authentic wine experience. Allow yourself to be seduced by its elegance and complexity.
Denomination: Barbaresco Riserva DOCG
Vintage: 2017
Dosage: Dry
Grape variety: Nebbiolo
Region: Piedmont (IT), Neviglie (CN)
Refinement: Oak barrels
Serving temperature: 16/18°C
Alcohol content: 14% vol.
The Roberto Sarotto winery is located in Piedmont, in the heart of the Langhe, in Neviglie near the city of Alba. The company can count on 90 hectares of property in the most prestigious production areas of Piedmont, located in different areas: Ronconuovo (Neviglie) where the main vinification and bottling cellar is also located; Novello, Barolo, Neive, Mango. In Gavi, on the other hand, there is a Cortese winery for the production of Gavi from the municipality of Gavi.
The philosophy of the cellar is particularly aimed at the needs of final consumers. The combination of tradition and modern winemaking techniques, together with the care of the vineyard, brings to light a balanced and pleasant wine in compliance with environmental sustainability.
What do we mean by these definitions? Click HERE to find out!
KNOW OUR FAMILY COMPANY
We have been selecting wines for almost 30 years, collaborating directly with direct producers throughout Italy and we focus on quality.
DISCOVER OUR SHOP
The customer at the center of everything. Every day our goal remains the same, to look for wines that can surprise our customers at a fair price. Trust our experience and you will not be disappointed.