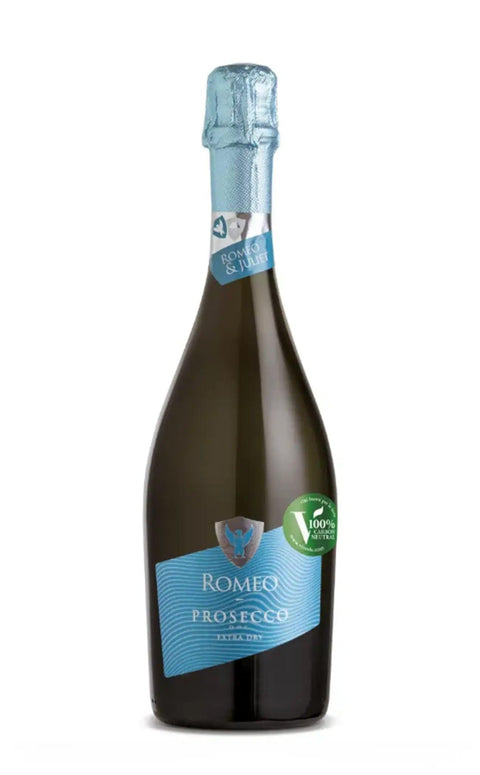 Prosecco Extra Dry Romeo DOC - Cantina Colli Vicentini
Fresh Creamy Fruity
What do we mean by these definitions? Click HERE to find out!
Prosecco Romeo is the emblem of the style and elegance that characterize the Veneto region, home to some of Italy's most refined sparkling wines. Produced exclusively from Glera grapes, grown in the hills surrounding the historic city of Vicenza, this wine is a tribute to tradition and the land. Prosecco Romeo stands out for its freshness and liveliness. The color is a bright straw yellow, with a fine and persistent perlage. On the nose, the bouquet is complex and inviting, with notes of green apple, peach, and white flowers, enriched by almond undertones. In the mouth, the wine is balanced and harmonious, with a pleasant acidity that makes it extremely drinkable. Ideal as an aperitif, this Prosecco pairs perfectly with light appetizers, fish-based dishes, and seafood. It is also the perfect ingredient for elegant cocktails like the Bellini or the Spritz, making it an incredibly versatile wine.
Denomination: Prosecco DOC
Vintage: NV
Dosage: Extra dry
Grape variety: Glera
Region: Veneto (IT), Vicenza (VI)
Refinement: Steel
Serving temperature: 4/6°C
Alcohol content: 11.5% vol.
Founded in 1955 by 33 passionate winemakers, Cantina Colli Vicentini is located near Montecchio Maggiore, in the heart of Veneto. The winery is renowned for the unique pedoclimatic characteristics of its areas, including the soil structure and sun exposure, thus guaranteeing ideal conditions for grape cultivation. Over the years, the company has evolved significantly, with a constant commitment to research and experimentation. They have adopted modern control systems for both the vineyards and the winemaking process, thereby improving the management of the territory while simultaneously raising the qualitative level of their productions.