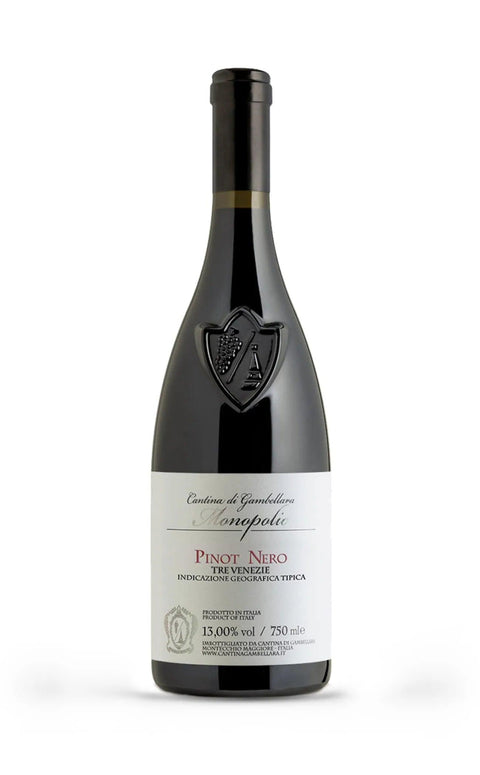 Pinot Nero Monopolio Trevenezie IGT 2019 - Cantina di Gambellara
Elegant Soft Fruity
What do we mean by these definitions? Click HERE to find out!
Its color is a lively ruby that dances in the light, while its bouquet is a symphony of red fruits and violets, a harmony as intense as it is elegant. On the palate, it unfolds in all its complexity: dry, well-balanced, with a finale that pays tribute to marasca cherry. Ideal for an intimate dinner, perhaps accompanied by mushroom-based dishes or lean meats like chicken and lamb. Imagine duck with citrus fruits or baked pork fillet with sage and apples; this wine is the cherry on top of a perfect evening.
Appellation: Trevenezie IGT
Vintage: 2019
Dosage: Dry
Grape variety: Pinot Noir
Region: Veneto (IT), Montecchio Maggiore (VI)
Refinement: Steel
Serving temperature: 16/18°C
Alcohol content: 13% vol.
Cantina di Gambellara, located in Gambellara in the province of Vicenza, is a historic wine cooperative founded in 1947 by a group of 26 associated vine growers. This winery became the first cooperative winery in the Vicenza province. The winery specializes in the production of DOC wines such as Soave, Gambellara, and Colli Berici. This area enjoys volcanic and morainic soils particularly suited to the cultivation of vines given the temperate climate and sunny exposure. Thanks to advanced and modern winemaking techniques, the cellar is able to produce genuine and quality wines that fully reflect its territory.