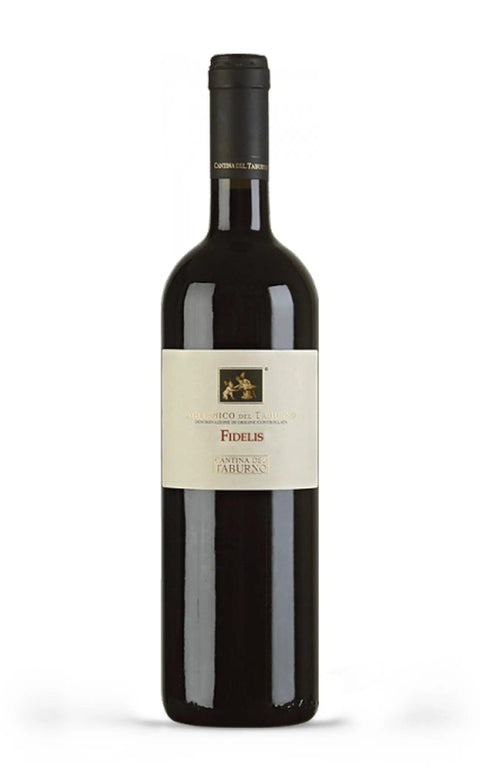 Aglianico Sannio Fidelis DOP 2018 - Cantina del Taburno
Elegant Soft Fruity
What do we mean by these definitions? Click HERE to find out!
As an autumn sunset painting the sky with fiery hues, the Aglianico Sannio Fidelis DOP from Cantina del Taburno is a wine that enchants at first glance. Its deep red color with ruby reflections is a visual invitation that anticipates its olfactory and taste complexity. On the nose, you'll perceive intense notes of red fruits, tobacco, and black pepper—a bouquet that evokes the richness of the Sannio Beneventano terroir. On the palate, the wine is soft, with a well-balanced tannic structure making it an ideal companion for robust dishes like roasts and aged cheeses.
Denomination: Aglianico DOP
Vintage: 2018
Dosage: Dry
Grapes: Aglianico, Sangiovese and Merlot
Region: Campania (IT), Foglianise (BN)
Refinement: Oak barrels and barriques
Serving temperature: 16/18°C
Alcohol content: 13% vol.
Located on the slopes of Monte Taburno, the Cantina del Taburno born in 1972 has always been a point of reference for the viticulture of the area. To date, the grapes from about 600 hectares of vineyards distributed in the municipalities on the slopes of the mountain are vinified. The ecosystem of this area is unique both for the nature and exposure of the land and for the microclimate and the vines used.
The wines produced are the result of meticulous and rigorous viticultural and oenological research, they are the maximum qualitative expression of the 13 municipalities and the 8 grape varieties adopted and fully respect the millenary history of the territory.