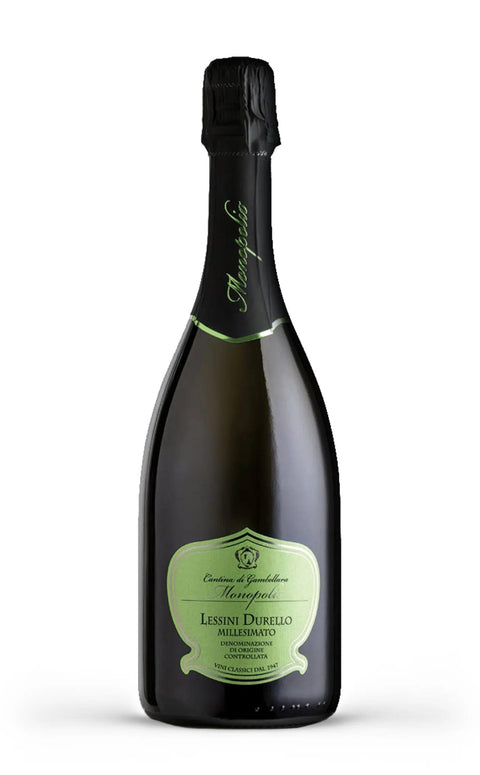 Lessini Durello Brut Monopolio DOC - Cantina di Gambellara
Elegant Exuberant Mineral
What do we mean by these definitions? Click HERE to find out!
We introduce you to the Lessini Durello Brut Monopolio DOC by Vitevis, a sparkling wine that is a true emblem of Veneto. Produced entirely from Durella grapes and long charmat method, this wine is a masterpiece of elegance and freshness. Its straw-yellow color and flowery bouquet with mineral hints are an irresistible invitation to discover its lively and harmonious structure given by the Vulcanic terroir in which the grapes are grown. This wine embodies the mastery of Venetian winemaking, offering a taste experience that exceeds expectations.
Denomination: Lessini Durello DOC
Dosage: Brut
Grape variety: Durella
Region: Veneto (IT), Montecchio Maggiore (VI)
Aging: Steel
Serving temperature: 4/6°C
Alcohol content: 12% vol.
Cantina di Gambellara, located in Gambellara in the province of Vicenza, is a historic wine cooperative founded in 1947 by a group of 26 associated vine growers. This winery became the first cooperative winery in the Vicenza province. The winery specializes in the production of DOC wines such as Soave, Gambellara, and Lessini Durello. This area enjoys volcanic and moraine soils particularly suited to the cultivation of vines given the temperate climate and sunny exposure. Thanks to advanced and modern winemaking techniques, the cellar is able to produce genuine, quality wines that fully reflect its territory.