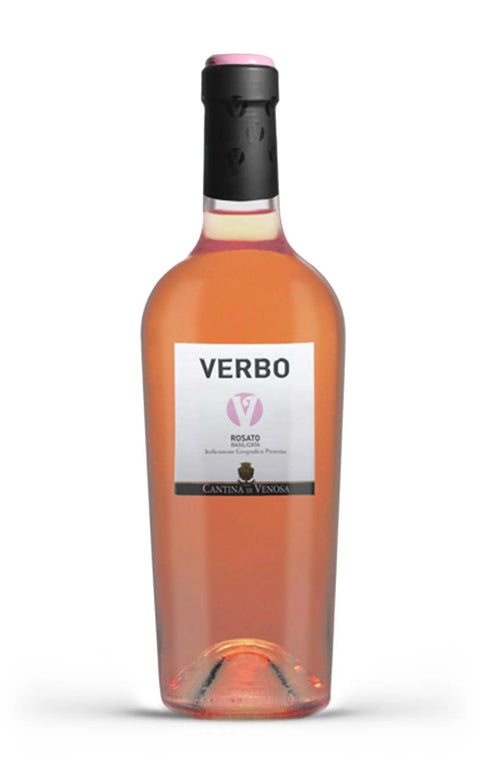 Aglianico Rosato Basilicata IGP Verbo 2021 - Cantina di Venosa
Soft Floral Fruity
What do we mean by these definitions? Click HERE to find out!
Immerse yourself in the poetic allure of Aglianico Rosato Basilicata IGP Verbo by Cantina di Venosa. This Italian Rosé is a symphony of sensations, a masterpiece crafted in the heart of Southern Italy. Its vivid ruby-red hue is a prelude to the complex aromas that await your senses. The first whiff reveals an intoxicating blend of lychee, papaya, and orange blossom, a tropical bouquet that promises an unforgettable tasting experience. On the palate, the wine is both juicy and fruity, a harmonious blend that dances between tangy and ripe tropical fruit tones. The winemakers at Cantina di Venosa have employed traditional methods to extract the essence of the Aglianico grape, preserving its unique characteristics. While information on its aging potential is not available, its current profile suggests a wine that is best enjoyed in the present, capturing the essence of a Mediterranean summer. Ideal for a romantic dinner or a casual gathering with friends, this wine pairs excellently with seafood dishes like grilled prawns or a classic Italian bruschetta. Its versatility also makes it a fitting choice for celebratory occasions, adding a touch of elegance to any event.
Denomination: IGP Rosé Wine
Vintage: 2021
Dosage: Dry
Grape variety: Aglianico
Region: Basilicata (IT), Venosa (PZ)
Aging: Steel
Serving temperature: 10/12°C
Alcohol content: 13.00% vol.
Cantina di Venosa is one of the most renowned companies in the South. Established in 1957, today there are 350 contributing members for an area of ​​approximately 800 hectares of vineyards. The winery, located in Venosa, a city north of Basilicata, establishes itself as the largest producer of Aglianico in the Vulture area. From this particular volcanic soil and thanks to the fortunate exposure of the Venosa hills, an Aglianico is born with an intense ruby ​​red color with garnet reflections, fruity and ripe bouquets and the savory and harmonious unmistakable flavor of Vulture.