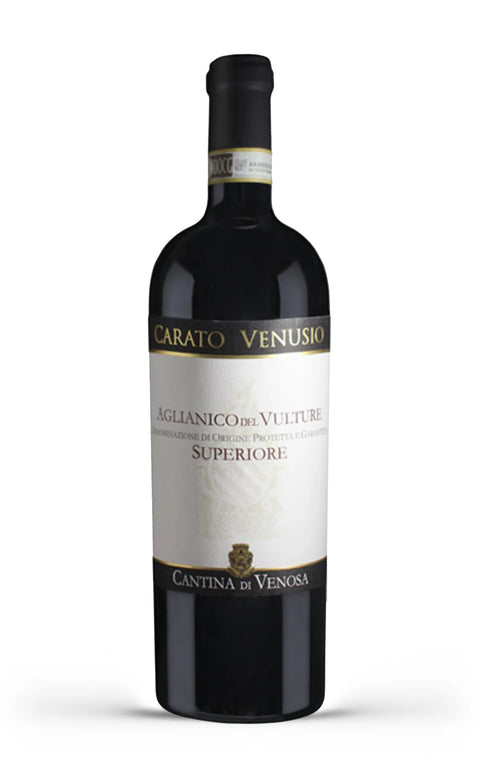 Aglianico del Vulture Superiore DOCG Carato Venusio 2013 - Cantina di Venosa
Exuberant Noble Complex
What do we mean by these definitions? Click HERE to find out!
Immerse yourself in the captivating allure of the Aglianico del Vulture Superiore DOCG Carato Venusio 2013, a gem from Cantina di Venosa. This red wine is an ode to Basilicata, a land of ancient winemaking traditions. Its structure is like a symphony—complex yet harmonious, unfolding in a bouquet of berries and violets. Aging in small barriques lends shades of elegance and worth, while the olfactory profile is a journey through notes of leather, dark chocolate, and spices. On the palate, the experience is a crescendo of flavors, from the sweetness of ripe fruits to the ardor of spices, supported by a tannic structure that is like an enveloping hug. Discover the magic of a wine that is liquid poetry, an ode to Italian excellence. Allow yourself to be seduced.
Denomination: Aglianico del Vulture Superiore DOCG
Vintage: 2013
Dosage: Dry
Grape variety: Aglianico
Region: Basilicata (IT), Venosa (PZ)
Refinement: Small French oak barrels
Serving temperature: 16/18°C
Alcohol content: 14.5% vol.
Cantina di Venosa is one of the most renowned companies in the South. Established in 1957, today there are 350 conferring members for an area of ​​approximately 800 hectares of vineyards. The winery, located in Venosa, a city in the north of Basilicata, established itself as the largest producer of Aglianico in the Vulture area. From this particular volcanic soil and thanks to the fortunate exposure of the Venosa hills, an Aglianico is born with an intense ruby ​​red color with garnet reflections, a fruity and ripe bouquet and the savory and harmonious unmistakable flavor of the Vulture.