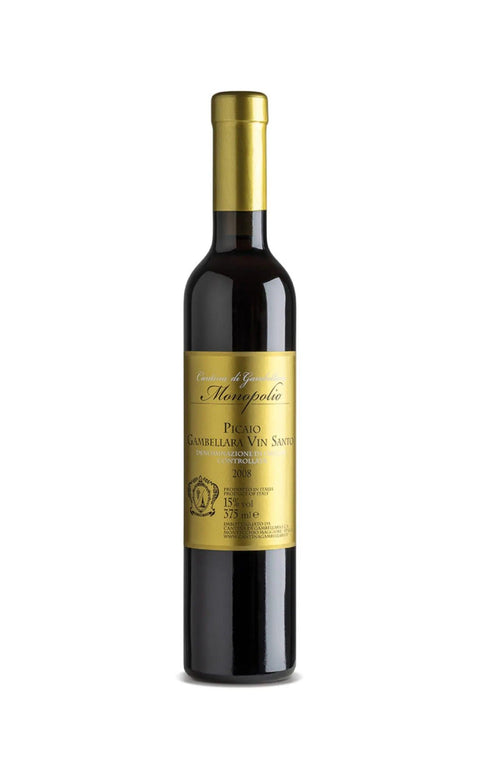 Vin Santo Classico Gambellara DOC 2013 (375ml) - Cantina di Gambellara
Exuberant Complex Elegant
What do we mean by these definitions? Click HERE to find out!
The Vin Santo Classico Gambellara DOC from Cantina di Gambellara is a sweet wine that captivates the senses. Produced following traditional methods, this golden nectar reveals a rich olfactory bouquet of dried fruit, honey, and sweet spices. Its complexity is further enhanced by aging techniques that intensify its taste profiles. Ideal for pairing with fruit desserts or blue cheese, this wine is perfect for moments of pure pleasure or special celebrations. Discover the tradition and quality that make this wine a true gem of Italian winemaking.
Denomination: Vin Santo Gambellara DOC
Vintage: 2013
Dosage: Sweet
Grape variety: Garganega
Region: Veneto (IT), Montecchio Maggiore (VI)
Refinement: Steel
Service temperature: 15°C
Alcohol content: 13% vol.
Cantina di Gambellara, located in Gambellara in the province of Vicenza, is a historic wine cooperative founded in 1947 by a group of 26 associated vine growers. This winery became the first cooperative winery in the Vicenza province. The winery specializes in the production of DOC wines such as Soave, Gambellara, and Lessini Durello. This area enjoys volcanic and morainic soils particularly suited to the cultivation of vines given the temperate climate and sunny exposure. Thanks to advanced and modern winemaking techniques, the cellar is able to produce genuine and quality wines that fully reflect its territory.