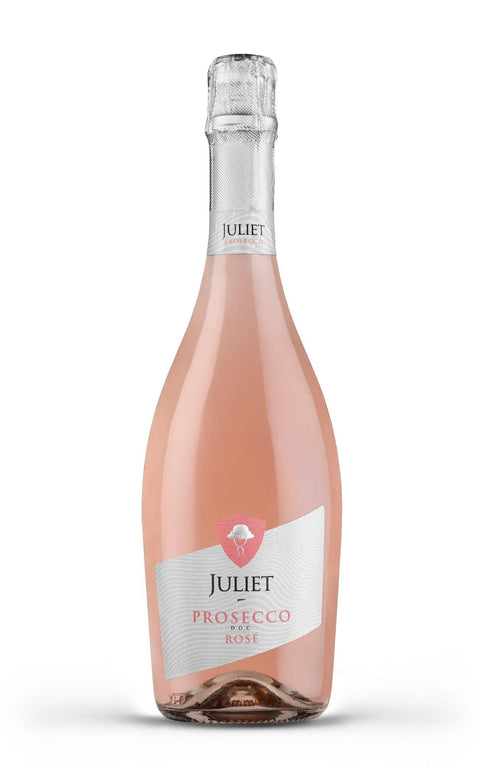 Prosecco Rosè Extra Dry Juliet DOC 2021 - Cantina Colli Vicentini
Soft Fresh Fruity
What do we mean by these definitions? Click HERE to find out!
Immerse yourself in the effervescent charm of Vitevis' Prosecco Rosè Extra Dry Juliet DOC. Expertly crafted in the wine region of Veneto, this sparkling wine is a perfect blend of Glera and Pinot Noir grapes. Refined in steel to preserve its freshness, the wine presents itself with a delicate pink hue reminiscent of blooming peach petals. On the nose, it unveils an evocative bouquet of peach, raspberry, and passion fruit, enriched by a floral touch. In the mouth, its structure is balanced and lively, with a persistence that invites another sip. Ideal for aperitifs or to accompany light dishes, this Prosecco is an invitation to celebrate life's small and big moments. Discover the essence of Veneto in every sip.
Denomination: Prosecco DOC
Vintage: 2021
Dosage: Extra dry
Grape variety: Glera
Region: Veneto (IT), Vicenza (VI)
Refinement: Steel
Serving temperature: 4/6°C
Alcohol content: 11.5% vol.
Founded in 1955 by 33 passionate winemakers, Cantina Colli Vicentini is located near Montecchio Maggiore, in the heart of Veneto. The winery is renowned for the unique pedoclimatic characteristics of its areas, including the soil structure and sun exposure, thus guaranteeing ideal conditions for grape cultivation. Over the years, the company has evolved significantly, with a constant commitment to research and experimentation. They have adopted modern control systems for both the vineyards and the winemaking process, thereby improving the management of the territory while simultaneously raising the qualitative level of their productions.