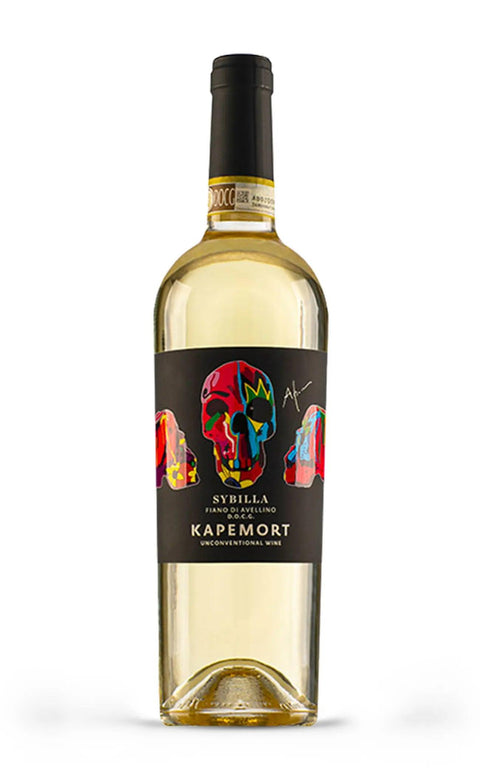 Fiano di Avellino Sybilla DOCG 2022 - Kapemort
Elegant Floral Fruity
What do we mean by these definitions? Click HERE to find out!
We introduce you to the Fiano di Avellino Sybilla DOCG by Kapemort, a white wine that epitomizes the essence of Campania. Grown in the clayey soils of Montefalcione, this wine is a masterpiece of balance and complexity. On the nose, the bouquet is a delicate weave of acacia flowers and dried fruits, while the palate reveals a soft and enveloping structure. The floral aroma harmoniously blends with notes of dried fruit, creating an unforgettable taste experience. Ideal as an aperitif or paired with fish dishes, this wine is the perfect choice for those seeking an authentic and refined enological experience.
Denomination: Fiano di Avellino DOCG
Vintage: 2022
Dosage: Dry
Grape variety: Fiano
Region: Campania (IT), Montefalcione (AV)
Refinement: Steel
Serving temperature: 8/10°C
Alcohol content: 13% vol.

Located in the province of Avellino, a stone's throw from Montefalcione, the Donnachiara company produces three very important DOCGs in the Irpinia area: Greco di Tufo, Fiano di Avellino and Taurasi. The Petitto family, respecting the tradition of this prestigious wine-growing area, takes care of the production process from the vineyard to the bottle in order to obtain excellent wines capable of satisfying every palate. In 2021 the company launches Kapemort, a line in collaboration with the artist Alex Caminiti that combines the esoteric tradition of Naples, a city of mystery, alchemy and legend, with the wines of the Irpinia terroir.