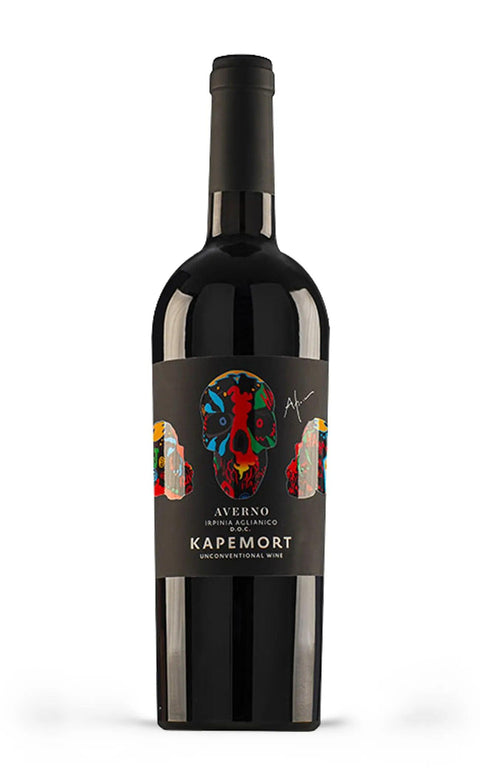 Aglianico Irpinia Averno DOC 2020 - Kapemort
Soft Complex Elegant
What do we mean by these definitions? Click HERE to find out!
The Aglianico Irpinia Averno DOC by Kapemort is a wine that captivates and seduces from the first sip. Produced in the Campania region, this wine pays homage to the volcanic soil and Mediterranean climate that nourish it. The malolactic fermentation takes place entirely in barrique, giving the wine a robust structure and a complex olfactory profile. The color is an intense ruby red that anticipates olfactory notes of marasca cherry, plum, and forest fruits, enriched by spicy nuances. On the palate, the wine is dry, warm, soft, and velvety, displaying a structure and elegance that make it irresistible. This wine pairs perfectly with land-based first courses, red meats, and aged cheeses, making it the ideal companion for a romantic dinner or a gathering among friends.
Denomination: Aglianico DOC
Vintage: 2020
Dosage: Dry
Grape variety: Aglianico
Region: Campania (IT), Montefalcione (AV)
Refinement: Barriques
Serving temperature: 16/18°C
Alcohol content: 13.5% vol.

Located in the province of Avellino, a stone's throw from Montefalcione, the Donnachiara company produces three very important DOCGs in the Irpinia area: Greco di Tufo, Fiano di Avellino and Taurasi. The Petitto family, respecting the tradition of this prestigious wine-growing area, takes care of the production process from the vineyard to the bottle in order to obtain excellent wines capable of satisfying every palate. In 2021 the company launches Kapemort, a line in collaboration with the artist Alex Caminiti that combines the esoteric tradition of Naples, a city of mystery, alchemy and legend, with the wines of the Irpinia terroir.