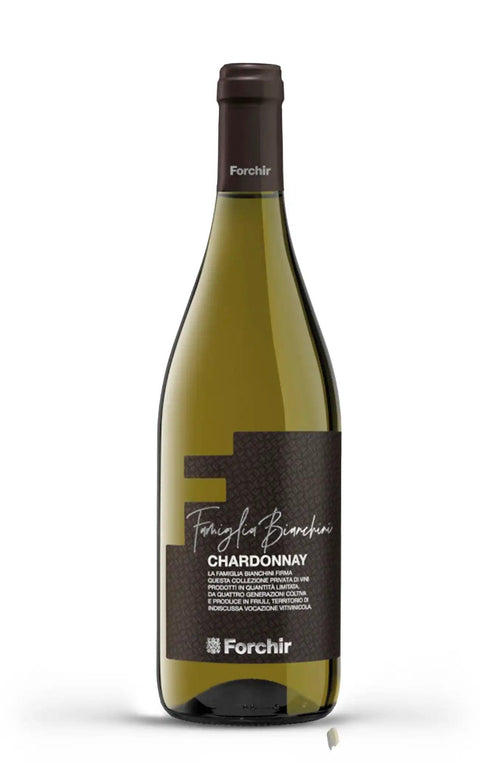 Chardonnay Claps DOC 2021 - Forchir
Mineral Complex Fruity
What do we mean by these definitions? Click HERE to find out!
The Chardonnay Claps DOC by Forchir is a white wine that embodies the essence of the Friuli-Venezia Giulia region. Produced with rigorous methods and low yields to ensure depth and quality, this wine is a hidden treasure waiting to be discovered. Visually, the wine displays a bright straw-yellow color, inviting you to uncover its secrets. On the nose, you'll perceive delicate and sophisticated notes—a mix of tropical fruits and floral nuances that evoke a blooming garden. In the mouth, the wine is an explosion of flavors. Its structure is well-balanced, with a freshness that makes it incredibly drinkable. Despite its youth, the wine shows aging potential, promising to evolve into something even more extraordinary.

As for food pairings, this Chardonnay is extremely versatile. It pairs perfectly with fish dishes, white meats, and soft cheeses.
Denomination: Chardonnay DOC
Vintage: 2021
Dosage: Dry
Grape variety: Chardonnay
Region: Friuli Venezia Giulia (IT), Camino al Tagliamento (UD)
Aging: Steel
Serving temperature: 8/10°C
Alcohol content: 12% vol.
Forchir is one of the main companies in Friuli and can count on 230 hectares of owned vineyards located in Camino al Tagliamento (UD) and Spilinbergo (PN). The company is owned by the Bianchini family who firmly believes in the use of technology to obtain a more sustainable and natural product as possible.
In the newly built zero-impact cellar, only steel is used for winemaking as a company philosophy. Production takes place without the use of sulfur dioxide and bottling takes place in compliance with the best wine conservation methods.
The excellent wines produced are the maximum representation of their grape variety and the authenticity of their territory.