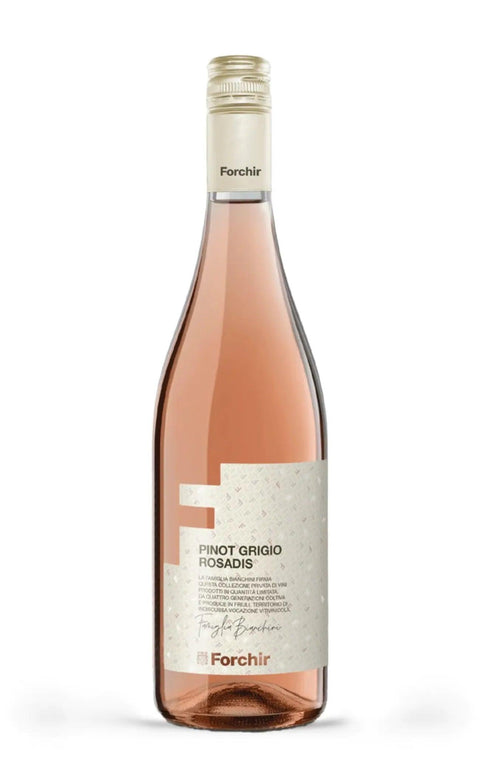 Pinot Grigio Rosadis DOC 2021 - Forchir
Noble Mineral Fruity
What do we mean by these definitions? Click HERE to find out!
In the depths of Grave del Friuli, a wine is born that is an ode to refinement: the Pinot Grigio Rosadis DOC by Forchir. Its production is a ritual of passion, starting with a soft pressing and about a 12-hour maceration of the skins and juice, followed by fermentation at a controlled temperature of 18°C in stainless steel vats. Visually, the wine presents itself as a delicate rose quartz, an invitation to discover its secrets. On the nose, it's a bouquet of apricots and strawberries, enriched by a stronger hint of dry herbs compared to its sibling Lamis. In the mouth, it's a complete sensory experience: full-bodied, bright, and full of ripe fruit, with the strawberry component coming through on the palate and a subtle almond note on the finish. This wine is ideal for an aperitif or to accompany appetizers, first courses, seafood, and white meats like veal and chicken.
Denomination: Pinot Grigio DOC
Vintage: 2021
Dosage: Dry
Grape variety: Pinot Gris
Region: Friuli Venezia Giulia (IT), Camino al Tagliamento (UD)
Refinement: Steel
Serving temperature: 8/10°C
Alcohol content: 12.5% ​​vol.
Forchir is one of the main realities in Friuli and can count on 230 hectares of owned vineyards located in Camino al Tagliamento (UD) and Spilinbergo (PN). The company is owned by the Bianchini family who firmly believe in the use of technology to obtain a more sustainable and natural product.
In the newly built zero impact cellar, only steel is used for winemaking as a company philosophy. The production takes place without the use of sulfur dioxide and the bottling takes place in compliance with the best wine conservation methods.
The excellent wines produced are the maximum representation of its grape variety and the genuineness of its territory.