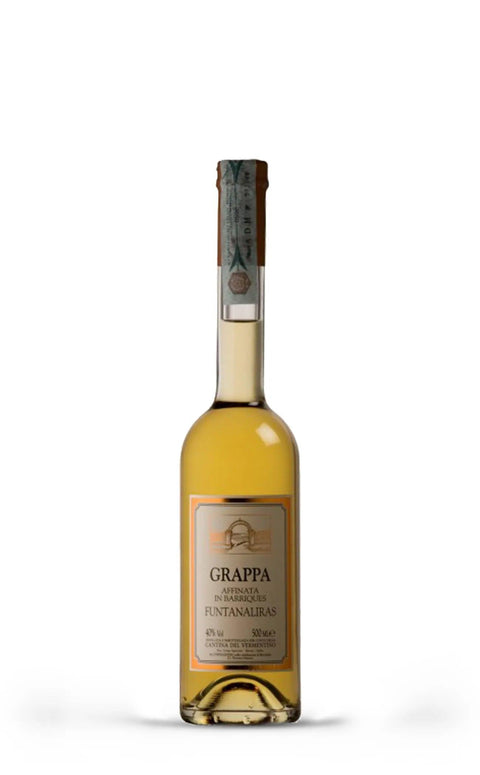 Grappa Barrique Funtanaliras - Cantina del Vermentino
Elegant Toasted Soft
What do we mean by these definitions? Click HERE to find out!
Like a painter laying brushstrokes on a blank canvas, the Barricata Funtanaliras Grappa from Cantina del Vermentino is liquid art. Originating from Gallura, at an altitude of 300-450 meters above sea level, this grappa is a distillate of 100% Vermentino di Gallura grape pomace. Aging in barrique grants it extraordinary complexity. On the nose, floral scents are prominent, while the palate is distinguished by its softness, balance, and persistence. Ideal for concluding an elegant dinner or accompanying an evening of deep conversations.
Denomination: Grappa Barricata
Vintage: NV
Dosage: Dry
Grape variety: Vermentino
Region: Sardinia (IT), Monti (OT)
Refinement: Barrique
Serving temperature: 16/18°C
Alcohol content: 42.00% vol.
The Cantina del Vermentino is now a point of reference for Sardinian and Italian wine production, especially for the production of Vermentino di Gallura. The historic winery founded in 1956, today has 250 members for an area of ​​500 hectares distributed among the municipalities of Monti, Telti, Olbia and Loiri Porto San Paolo. The unique terroir of its kind thanks to the sandy granite soils, rich in potassium combined with the high temperature ranges and the sea breeze from the Costa Smeralda guarantee wines of marked sapidity and complexity. These characteristics are enhanced by the skilful hand of the oenologist Alberto Raccanelli who, also thanks to the most modern technologies in the Cellar, creates, year after year, excellent, fine and elegant wines that bring prestige to the territory they represent.