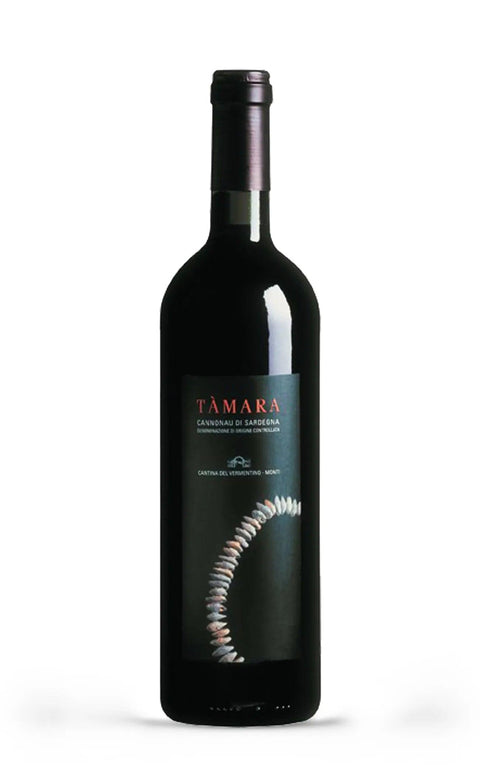 Cannonau di Sardegna Tàmara DOC 2018 - Cantina del Vermentino
Complex Exuberant Spicy
What do we mean by these definitions? Click HERE to find out!
Produced in the Monti region, this wine is a tribute to the land it comes from. The color is a deep red, almost as if it's trying to capture the essence of Sardinian soil. On the nose, you'll detect notes of pepper and thyme, a nod to the aromatic herbs that grow wild on the island. This expresses its purest nature and with the wood ageing, it is added complexity. Ideal pairings? A dish of Sardinian suckling pig or a grilled fish dinner on a summer evening.
Denomination: Cannonau di Sardegna DOC
Vintage: 2018
Dosage: Dry
Grape variety: Cannonau
Region: Sardinia (IT), Monti (OT)
Refinement: Barrique
Serving temperature: 14/16°C
Alcohol content: 13.50% vol.
The Cantina del Vermentino is now a point of reference for Sardinian and Italian wine production, especially for the production of Vermentino di Gallura. The historic winery founded in 1956, today has 250 members for an area of ​​500 hectares distributed among the municipalities of Monti, Telti, Olbia and Loiri Porto San Paolo. The unique terroir of its kind thanks to the sandy granite soils, rich in potassium combined with the high temperature ranges and the sea breeze from the Costa Smeralda guarantee wines of marked sapidity and complexity. These characteristics are enhanced by the skilful hand of the oenologist Alberto Raccanelli who, also thanks to the most modern technologies in the Cellar, creates, year after year, excellent, fine and elegant wines that bring prestige to the territory they represent.