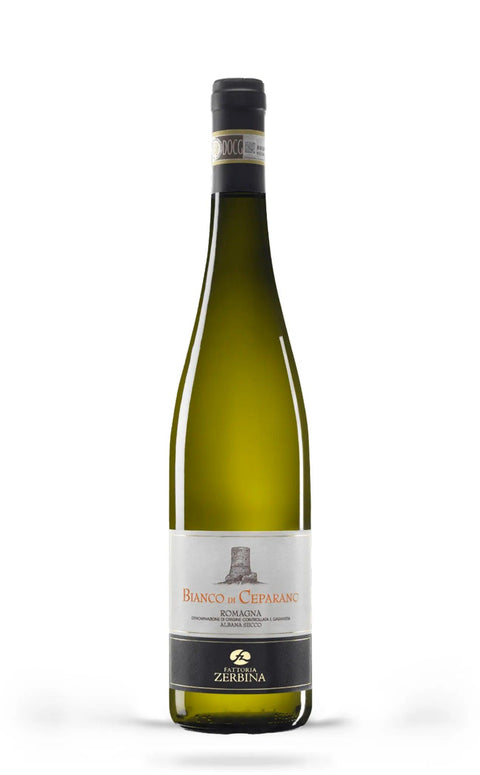 Albana Bianco di Ceparano Romagna DOCG 2022 - Fattoria Zerbina
Noble Mineral Fruity
What do we mean by these definitions? Click HERE to find out!
Fattoria Zerbina's Albana Bianco di Ceparano Romagna DOCG is the jewel of Emilia Romagna white wines that enchants with its elegance and complexity. Produced using sustainable viticulture methods. At first glance, its straw yellow color with golden reflections captures the attention. On the nose, it offers an olfactory bouquet rich in white pulp fruit, wild flowers and a touch of minerality. In the mouth, the structure is well balanced, with a freshness that blends harmoniously with notes of exotic fruit and a persistent finish. Ideal for a romantic candlelit dinner, this wine pairs beautifully with fish dishes such as baked sea bass or pasta with seafood. It's also a great choice for special occasions, where its distinctive character can really shine.
Denomination: Albana DOCG
Vintage: 2022
Dosage: Dry
Grape variety: Albana
Region: Emilia Romagna (IT), Marzeno (RA)
Refinement: Cement
Serving temperature: 10/12°C
Alcohol content: 12% vol.
Fattoria Zerbina, led with passion by Cristina Geminiani, produces high quality wines that represent the authentic expression of the territory. Each wine is born from a deep bond with the land, from listening to the hidden language of the vines and from dedication in the process of transforming grapes into wine. No shortcuts are chosen but only time, care and competence. The result is works of art in bottles, capable of containing the wisdom of tradition and the strength to dare the new. Fattoria Zerbina is known in particular for the enhancement of Sangiovese and Albana, with the use of innovative techniques such as noble rot on the plant and the Sauternes-style gradual harvest. Their wines are the result of a synthesis of multiple vineyards that adhere perfectly to the profile of that type of wine. With the Monograph project, the winery offers a prestigious collection of wines from individual Sangiovese vineyards trained in saplings, which best represent the territory to which they belong. Tasting the wines of Fattoria Zerbina is like embarking on a sensory journey to discover an ancient art, reinterpreted with courage and innovation.