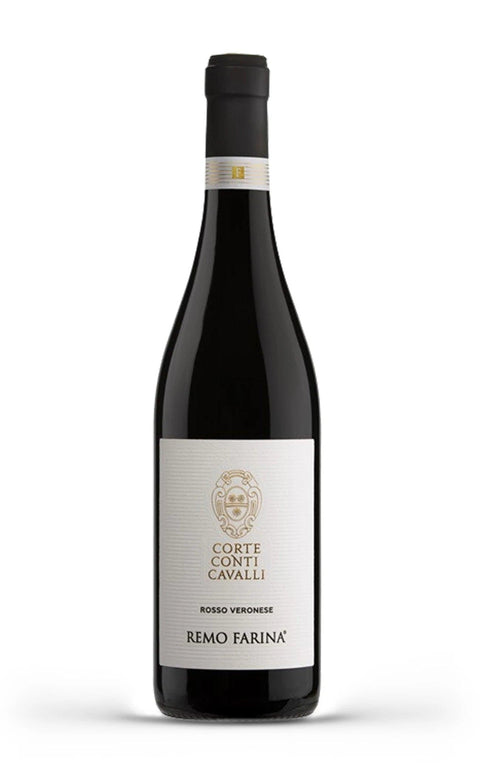 Corte Conti Cavalli Rosso Veronese IGT 2018 - Farina
Complex Spicy Fruity
What do we mean by these definitions? Click HERE to find out!
From the fertile lands of Verona comes the Corte Conti Cavalli Rosso Veronese IGT, a wine that is an ode to both tradition and innovation. Produced primarily from Corvina grapes, with a touch of Merlot and Molinara, this wine is a living portrait of its terroir. Hand-harvesting and aging in both steel and wood unveil a wine of extraordinary complexity and depth. Visually, the wine presents itself with an intense red color, almost like a sunset over Verona. On the nose, it's an explosion of aromas: from ripe red fruits to spicy and floral notes. In the mouth, the wine is a perfect balance of power and softness, with well-integrated tannins and distinctive minerality. Ideal for romantic evenings or elegant dinners, this wine pairs beautifully with red meats, aged cheeses, and traditional Italian dishes. Such a versatile and captivating wine is perfect for any occasion, from business lunches to more intimate celebrations.
Denomination: Rosso Veronese IGT
Vintage: 2018
Dosage: Dry
Grapes: Corvina, Merlot and Molinara
Region: Veneto (IT), Pedemonte (VR)
Refinement: Steel and barriques
Serving temperature: 16/18°C
Alcohol content: 14% vol.
The Farina farm is one of the most historic companies in the Valpolicella Classica and currently manages 45 hectares of selected vineyards.
The Farina family aspires to create noble wines that can enhance the grape variety and terroir by relying on the best technologies both in winemaking and in bottling.
It can be said that the result was fully achieved as it is an increasingly successful reality in the area thanks to the excellence of its wines and the frantic search to improve from year to year.