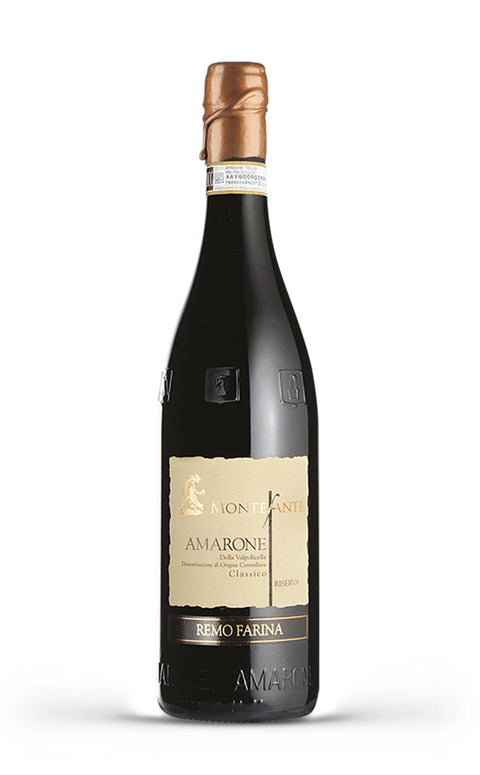 Farina - Amarone della Vapolicella Classico Riserva Montefante DOCG 2015
Noble Exuberant Complex
What do we mean by these definitions? Click HERE to find out!
Immerse yourself in the sensory experience offered by Farina Wines' Amarone della Valpolicella Classico Riserva Montefante. This wine is an ode to Italian winemaking tradition, crafted from a rigorous selection of Corvina, Corvinone, and Rondinella grapes. Its garnet-red hue is a prelude to the olfactory journey that awaits you: an intense bouquet of raspberry jam, blackberries, and plums in spirit, enriched by spicy notes of pepper, coriander, and cinnamon. On the palate, complexity unfolds in layers of ripe fruit and spices, supported by a structure that can be likened to a well-crafted piece of art. Ideal pairings include red meats, aged cheeses, and traditional Italian cuisine. Allow yourself to be seduced by its elegance and complexity, and discover why this wine is a jewel of Italian viticulture.
Denomination: Amarone della Valpolicella Classico Riserva DOCG
Vintage: 2015
Dosage: Dry
Grapes: Corvina, Corvinone and Rondinella
Region: Veneto (IT), Pedemonte (VR)
Refinement: Barriques and Slavonian oak barrels
Serving temperature: 16/18°C
Alcohol content: 16% vol.
The Farina farm is one of the most historic companies in the Valpolicella Classica and currently manages 45 hectares of selected vineyards.
The Farina family aspires to create noble wines that can enhance the grape variety and terroir by relying on the best technologies both in winemaking and in bottling.
It can be said that the result was fully achieved as it is an increasingly successful reality in the area thanks to the excellence of its wines and the frantic search to improve from year to year.