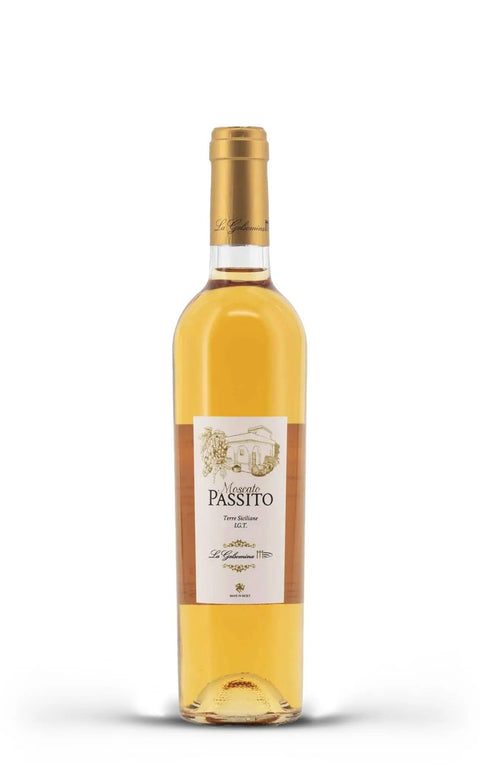 Moscato Passito Terre Siciliane IGT 500 ml - La Gelsomina
Aromatic Floral Complex
What do we mean by these definitions? Click HERE to find out!
Gelsomina's Moscato Passito Terre Siciliane is a wine that captures the essence of Sicily. Coming from the volcanic soils of Mascali, 480 meters above sea level, this wine stands out for its refinement and complexity. The manual harvest takes place in September, followed by delicate destemming and pressing of the grapes. Fermentation takes place at a controlled temperature with selected yeasts. It has a golden yellow color, inviting to the eyes. On the nose, it stands out for an intense and elegant aroma, with notes of ripe white pulp fruit and orange blossom flowers. On the palate, the wine is fresh and delicate, pleasant to the taste, with the classic notes of muscat grapes mixing in a long and pleasant aftertaste.
Denomination: Terre Siciliane IGT
Vintage: 2018
Dosage: Sweet
Grape variety: Moscato
Region: Sicily (IT), Gibellina (TP)
Aging: Steel
Serving temperature: 15°C
Alcohol content: 12.5% ​​vol.
Tenute Orestiadi was born in 2008 in the heart of the Belìce Valley in Ghibellina in Sicily, a place where the scents and colors of the Mediterranean meet with myth and art. The terroir here is unique, different combinations of soils, microclimates and altitudes give rise to wines that are the fruit of love and dedication.
Red, white and black earth meet, giving the right shade for each native varietal and are subsequently enhanced to the maximum by expert hands and high winemaking technology.