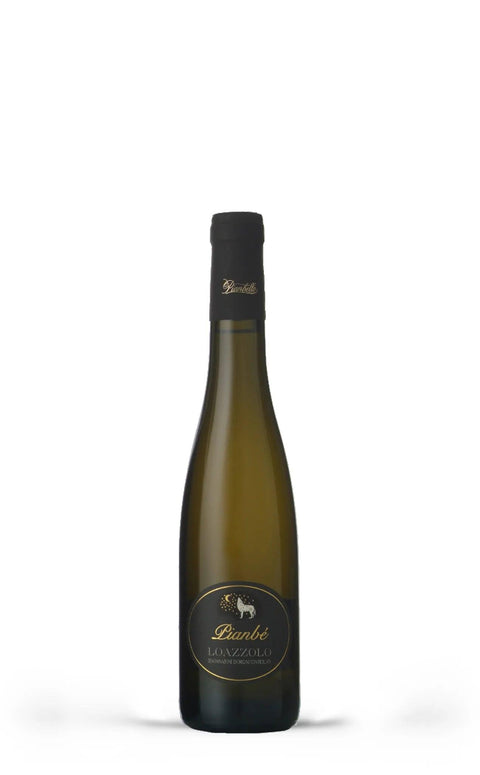 Passito Loazzolo Pianbè DOC 2012 (375ml) - Pianbello
Concentrated Sapid Complex
What do we mean by these definitions? Click HERE to find out!
Produced from Moscato d'Asti grapes, this rare wine is a golden treasure that reveals a bouquet of intense aromas of flowers and candied fruit. Its sweetness is balanced by a light aromatic note of typical Moscato and a great sapidity, creating a taste experience that is as rich as it is refined. This wine is ideal for accompanying fruit desserts or blue cheeses, and lends itself beautifully to moments of pure relaxation and contemplation.
Denomination: Loazzolo DOC
Vintage: 2012
Dosage: Dry
Grape variety: Moscato d'Asti
Region: Piedmont (IT), Loazzolo (AT)
Refinement: Barriques
Serving temperature: 8/10°C
Alcohol content: 11.5% vol.
The Pianbello Farm owned by the brothers Mario and Pietro Cirio is located in the Langa Astigiana in Loazzolo. The Cirio family is dedicated to the cultivation of Moscato, Chardonnay and Pinot Noir. In the cellar, located at an altitude of 400m, the wine is made starting from particular attention to the care of the vineyards, some of which are "heroic" located at an altitude of 550/650m altitude. Of absolute quality is their production of Alta Langa, Pinot Noir and Loazzolo DOC (one of the smallest DOCs in Italy).