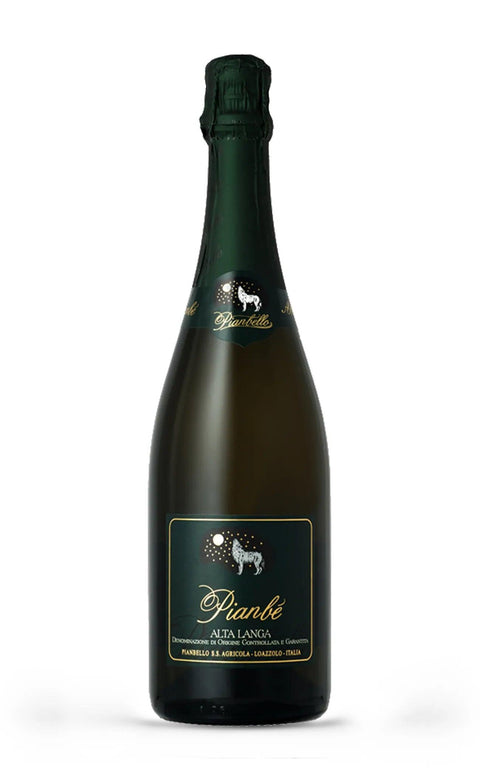 Alta Langa Pianbè Brut DOCG 2016 Magnum - Pianbello
Complex Noble Fragrant
What do we mean by these definitions? Click HERE to find out!
This Alta Langa is a harmonious fusion of Pinot Noir and Chardonnay, hand-harvested with artisanal care. Its golden color lights up the sight, while the olfactory profile is an intriguing mix of ripe fruit and floral notes. On the palate, a full-bodied structure welcomes you, comparable to an enveloping embrace, with a persistent finish that leaves a lasting impression. Bottle aging on the yeasts for 36 months further enhances its characteristics. Perfect for special occasions or to elevate an intimate dinner, this wine is the emblem of the Italian winemaking tradition. Discover the magic of Alta Langa Pianbè Brut and let yourself be seduced by its timeless elegance.
Denomination: Alta Langa DOCG
Vintage: 2016
Dosage: Brut
Grapes: Pinot Noir and Chardonnay
Region: Piedmont (IT), Loazzolo (AT)
Refinement: 36 months on the lees
Serving temperature: 6/8°C
Alcohol content: 13% vol.
The Pianbello Farm owned by the brothers Mario and Pietro Cirio is located in the Langa Astigiana in Loazzolo. The Cirio family is dedicated to the cultivation of Moscato, Chardonnay and Pinot Noir. In the cellar, located at an altitude of 400m, the wine is made starting from particular attention to the care of the vineyards, some of which are "heroic" located at an altitude of 550/650m altitude. Of absolute quality is their production of Alta Langa, Pinot Noir and Loazzolo DOC (one of the smallest DOCs in Italy).