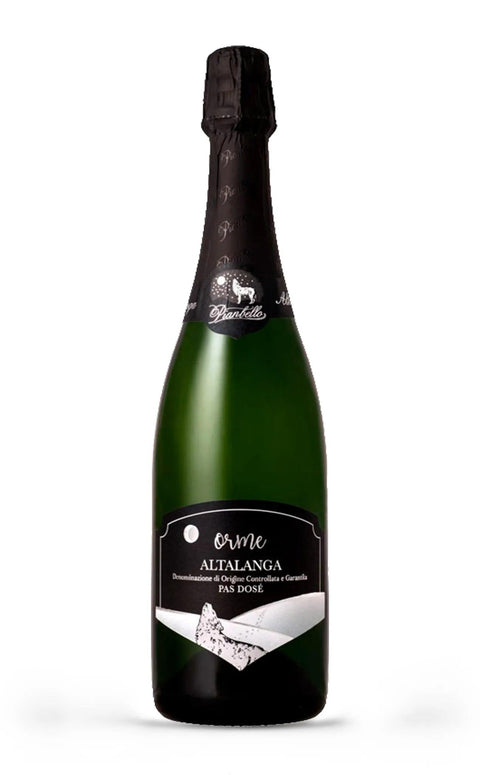 Alta Langa Orme Pas Dosè DOCG 2019 - Pianbello
Complex Noble Elegant
What do we mean by these definitions? Click HERE to find out!
Immerse yourself in the sensory experience offered by Pianbello's Alta Langa Orme Pas Dosè DOCG. Produced in the heart of Piedmont, this classic method sparkling wine is a tribute to Italian winemaking tradition. Made exclusively from Pinot Noir grapes, grown in vineyards planted in 2004 on clayey-sandy soils, the wine stands out for its complexity and depth. On the nose, you'll detect delicate notes of white flowers and green apple that evolve into shades of exotic fruit and fresh hay. On the palate, the wine is warm and enveloping, with a structure that resembles the solidity of an embrace. The absence of sugar dosage (Pas Dosè) enhances the purity of the fruit and the balance of the wine. Ideal for pairing with seafood dishes or aged cheeses. Allow yourself to be seduced by its elegance and discover a wine that is a true hymn to the land from which it comes.
Denomination: Alta Langa DOCG
Vintage: 2019
Dosage: Pas Dosè
Grape variety: Pinot Noir
Region: Piedmont (IT), Loazzolo (AT)
Ageing: 30 months on yeasts
Serving temperature: 6/8°C
Alcohol content: 13.5% vol.
The Pianbello agricultural company of the brothers Mario and Pietro Cirio is located in the Langa Astigiana in Loazzolo. The Cirio family is dedicated to the cultivation of Moscato, Chardonnay and Pinot Noir. In the cellar, located at 400 meters above sea level, wine is made starting from particular attention to the care of the vineyards, some of which are "heroic" also located at 550/650 meters above sea level altitude. Their production of Alta Langa, Pinot Noir and Loazzolo DOC (one of the smallest DOCs in Italy) is of absolute quality.