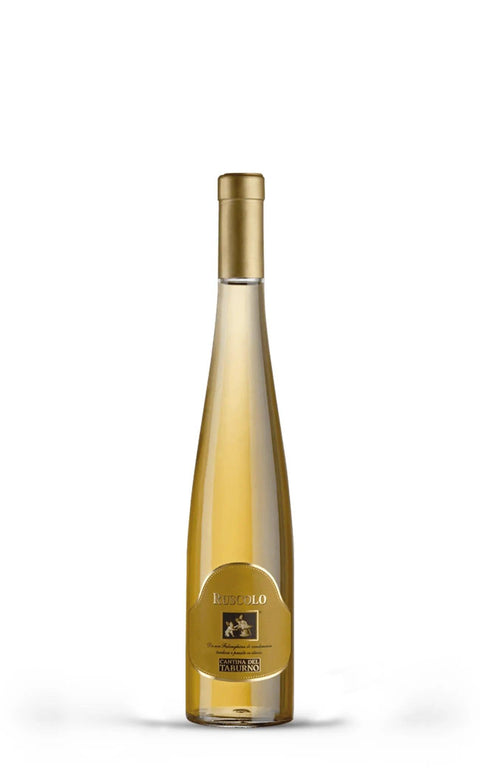 Passito di Falanghina Ruscolo IGP 2020 (500ml) - Cantina del Taburno
Savory Complex Mineral
What do we mean by these definitions? Click HERE to find out!
The Passito di Falanghina Ruscolo IGP from Cantina del Taburno is a sensory experience that goes beyond the simple act of drinking. Produced in the hills of Taburno, this sweet wine is a tribute to the winemaking tradition of Campania. Its golden yellow hue is a visual invitation, while its olfactory profile evokes notes of dates and dried figs. The aging in wood helps create a complexity and concentration that make it a truly premium wine, which, with time, can become a true tasting experience after a few more years in the bottle. Ideal for pairings with fruit desserts or blue cheeses, this wine is a perfect companion for special moments, such as a romantic dinner or a family celebration. Discover the magic of Passito di Falanghina Ruscolo IGP and let yourself be enveloped by its irresistible aromas.
Denomination: Falanghina IGP
Vintage: 2020
Dosage: Dry
Grape variety: Falanghina
Region: Campania (IT), Foglianise (BN)
Refinement: Barriques
Serving temperature: 8/10°C
Alcohol content: 14.5% vol.
Located on the slopes of Monte Taburno, the Cantina del Taburno born in 1972 has always been a point of reference for the viticulture of the area. To date, the grapes from about 600 hectares of vineyards distributed in the municipalities on the slopes of the mountain are vinified. The ecosystem of this area is unique both for the nature and exposure of the land and for the microclimate and the vines used. The wines produced are the result of meticulous and rigorous viticultural and oenological research, they are the maximum qualitative expression of the 13 municipalities and the 8 grape varieties adopted and fully respect the millenary history of the territory.