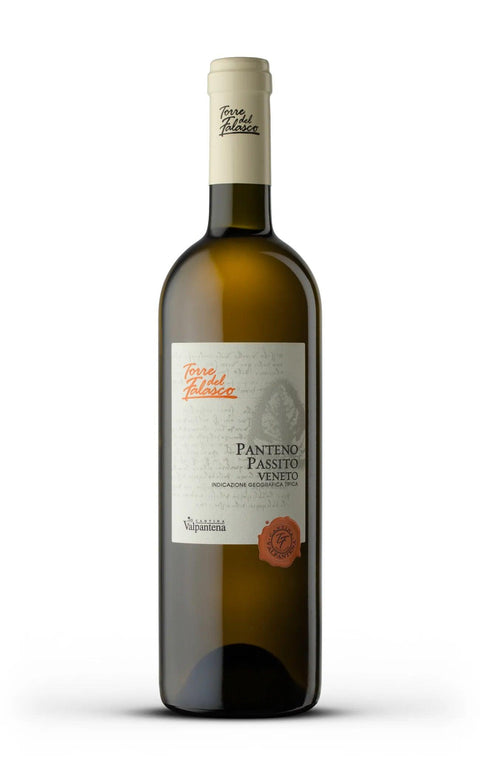 Passito Panteno Torre del Falasco IGT 2019 (750ml) - Cantina Valpantena
Complex Creamy Fruity
What do we mean by these definitions? Click HERE to find out!
The Passito Panteno Torre del Falasco IGT from Cantina Valpantena is a wine that enchants with the first sip. Produced through a meticulous selection of grapes left to wither on racks, this wine is a tribute to Italian winemaking art. Its color is an intense amber, almost like an autumn sunset. On the nose, it offers a complex bouquet of dried fruit, honey, and exotic spices. In the mouth, the sweetness is balanced by surprising freshness, with notes of dried apricot and vanilla. Ideal for moments of contemplation or as an end-of-meal companion, it pairs beautifully with blue cheeses or fruit-based desserts.
Denomination: Passito IGT wine
Vintage: 2019
Dosage: Sweet
Grapes: Chardonnay, Garganega and Moscato Giallo
Region: Veneto (IT), Quinto (VR)
Refinement: Oak barrels
Serving temperature: 10/12°C
Alcohol content: 13.5% vol.
Cantina Valpantena brings together about 250 members for 750 hectares of vineyards and over 150 oil producing companies in the Verona area. Today it represents a unique and well-established reality for quality in the Vapolicella area, in particular in the Valpantena area.
In the cellar, the skilful work of the members in the vineyard meets the most advanced winemaking technologies, giving life to wines of the highest quality and structure that fully reflect the magnificent territory from which they derive.