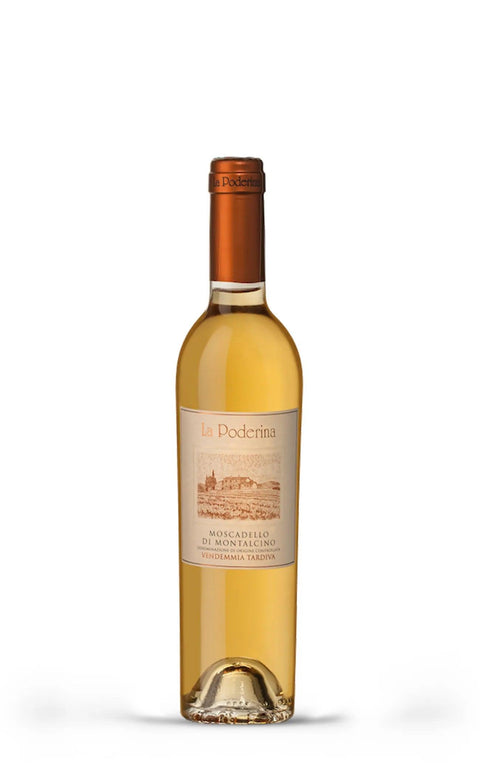 Moscadello di Montalcino Vendemmia Tardiva DOC 2015 (375ml) - La Poderina
Aromatic Fruity Floral
Doctor Wine - 92/100
Bibenda - 5 Bunches
What do we mean by these definitions? Click HERE to find out!
Discover the Moscadello di Montalcino Late Harvest DOC by La Poderina, a sweet wine that enchants the senses from the first sip. Produced in Tuscany, this wine is made from Moscadello grapes, giving it a unique olfactory and taste profile. The wine presents itself with an intense golden color and offers a bouquet of tropical fruits, honey, and white flowers on the nose. In the mouth, the sweetness is balanced by a pleasant acidity, making it incredibly drinkable. Ideal for romantic evenings, this wine pairs beautifully with aged cheeses and fruit desserts.
Denomination: Moscadello di Montalcino DOC
Vintage: 2015
Dosage: Dry
Grape variety: Moscato
Region: Tuscany (IT), Montalcino (SI)
Refinement: Barriques
Service temperature: 15°C
Alcohol content: 13.5% vol
La Poderina is located within the municipality of Montalcino in the Castelnuovo Abate area, a renowned area for the finesse and balance of the Sangiovese grapes for the production of Brunello di Montalcino and Rosso di Montalcino.
The wines are produced using technology at the service of tradition: the aging is mainly carried out in French oak barriques and the yield per hectare is set at 60 quintals, well below the 80 to be regulated.
The wines are characterized by complex and intense bouquets, with great structure and silky tannins, ideal for ageing.