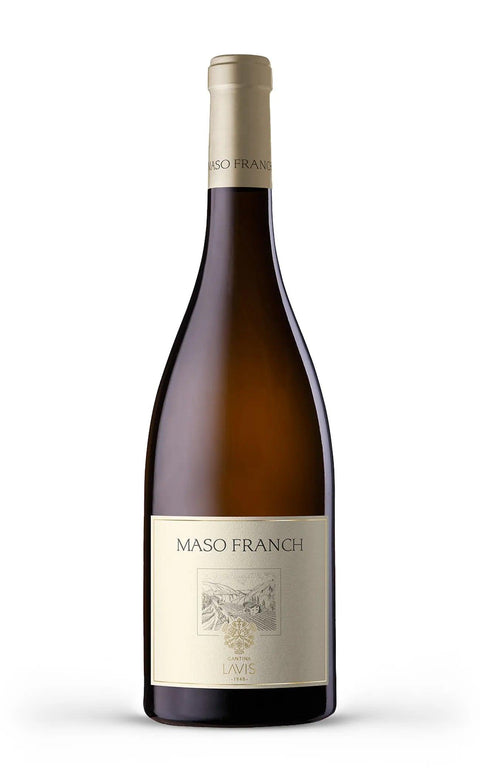 Maso Franch Vigneti delle Dolomiti IGT 2016 - Lavis
Full Bodied Complex Sapid
Red Medal Wine Hunter 90-92.99/100
Gold Berliner Wine Trophy
Luca Maroni 90/100
What do we mean by these definitions? Click HERE to find out!
The Maso Franch Vigneti delle Dolomiti IGT is a wine that tells the story of an ancient farmstead surrounded by an unspoiled natural environment. Produced using organic agricultural techniques, this wine is a hymn to vegetative and productive balance. The color is a bright golden yellow with evident green highlights. On the nose, mineral aromas are a prelude to more fruity, citrusy scents. The evolution in the glass is continuous and intriguing, featuring flint and slightly smoky notes that complete the olfactory sensations. In the mouth, the wine has an imposing structure and great depth, broad and tight, with an evident saline component that caresses the palate. This wine is ideal for pairings with fish dishes, particularly crustaceans, or vegetable-based first courses.
Denomination: White Vineyards of the Dolomites IGT
Vintage: 2016
Dosage: Dry
Grape variety: Manzoni crossing
Region: Trentino Alto Adige (IT), Lavis (TN)
Refinement: French oak barriques
Serving temperature: 8/10°C
Alcohol content: 14% vol.
Cantina Lavis is one of the most renowned cooperatives in Trentino and has its headquarters in the municipality of La-Vis where it was founded in 1948. Nowadays there are about 800 members contributing to about 750 hectares of vineyards with an altimetric layout that varies from 200mt to 800mt guaranteeing organoleptic richness and variety; the fine and elegant white vines are grown in the mountains, while the intense and structured reds are grown in the hills. The wines of the Cantina di Lavis and Valle di Cembra are a representation of the winemaking tradition that combines nature with technique in a mountain context that is unique in the world.