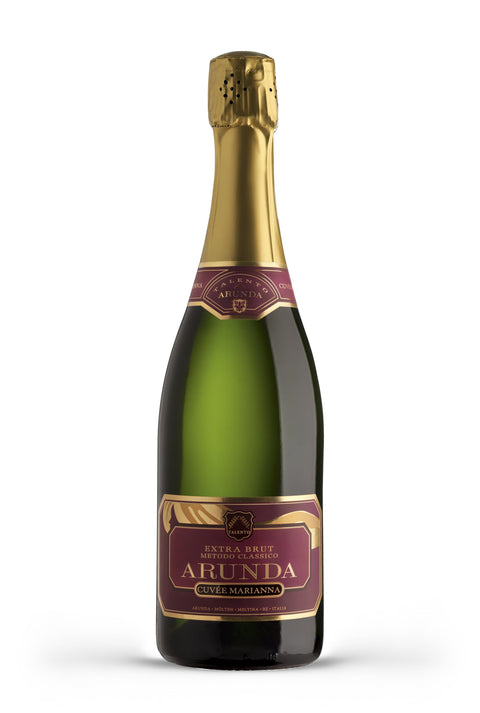 Metodo Classico Alto Adige DOC Extra Brut Cuvée Marianna - Arunda
Noble Elegant Citrusy
What do we mean by these definitions? Click HERE to find out!
Imagine opening a bottle of liquid poetry, an ode to refinement and elegance. The Metodo Classico Alto Adige DOC Extra Brut Cuvée Marianna by Arunda is a wine that enchants the senses like a delicate ballet of aromas and flavors. Produced in the Trentino Alto Adige region, this sparkling wine is a perfect marriage of 80% Chardonnay and 20% Pinot Noir. Visually, the wine is a northern light in a glass, with golden hues dancing in the light. On the nose, it's an olfactory mosaic of white-fleshed fruits, citrus notes, and a touch of bread crust, thanks to 54 months of aging. In the mouth, it's like a warm yet lively hug, with a fine and persistent perlage that caresses the palate. Although the aging potential is not specified, the complexity and structure of this wine suggest notable longevity. Perfect for special occasions, it pairs splendidly with oysters, truffles, and unforgettable moments.
Denomination: Alto Adige DOC
Vintage: NV
Dosage: Extra Brut
Grapes: Chardonnay and Pinot Noir
Region: Trentino Alto Adige (IT), Meltina (BZ)
Aging: 54 months on the lees - Chardonnay in barriques
Serving temperature: 4/6°C
Alcohol content: 13% vol.
Cantina Arunda is a winery located on the slopes of the Alta Val d'Adige in South Tyrol, founded in 1979 by Josef Reiterer. Its geographical position is an important factor in the quality of its wines: located at 1,200 meters above sea level, the Arunda Winery holds the record as the highest winery in Europe. The favorable climatic conditions, with natural temperature fluctuations, allow for a slow and natural maturation of the wines, which are distinguished by their elegance, complexity and richness. The cellar uses the highest quality raw materials from the best terroirs of South Tyrol, including Appiano, Cornaiano, Terlano and Bassa Atesina and works in close collaboration with small independent producers to guarantee the constant quality of its wines. The company was founded thanks to the passion and innovation of Josef Reiterer, who was able to create a successful winery that combines tradition and modernity. Arunda signed labels represent the elegance, richness and complexity of Alto Adige wines, offering a unique and authentic tasting experience.