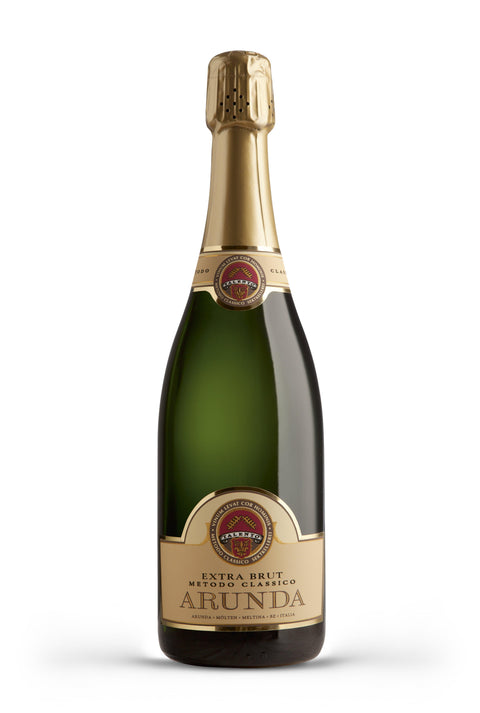 Metodo Classico Alto Adige DOC Extra Brut - Arunda
Elegant Noble Fragrant
What do we mean by these definitions? Click HERE to find out!
The Extra Brut Arunda is a sparkling wine that represents the quintessence of South Tyrol (Alto Adige), a region distinguished by its extraordinary geographical and climatic variety. Produced through the Classic Method, this wine is an 80% Chardonnay and 20% Pinot Noir blend, grown in the areas of Terlano and Salorno. The color of the Extra Brut is a bright and luminous gold that impresses from the first glance, further enhanced by an extremely fine and enduring perlage. On the nose, the wine offers a rich, fragrant, and complex bouquet. Lively aromas of citrus, mountain flowers, and apricot harmoniously blend with tones of toasted bread crust and dried fruit. In the mouth, the sensation is round and soft, enriched by a playful touch of bitter almond on the finish. Excellent as an aperitif, it is ideal for perfectly accompanying dishes like risotto and citrus-based first courses, as well as fish, especially if smoked. An inimitable taste experience.
Denomination: Alto Adige DOC
Vintage: NV
Dosage: Extra Brut
Grapes: Chardonnay and Pinot Noir
Region: Trentino Alto Adige (IT), Meltina (BZ)
Refinement: 30 months on the lees
Serving temperature: 4/6°C
Alcohol content: 12.5% ​​vol.
Cantina Arunda is a winery located on the slopes of the Alta Val d'Adige in South Tyrol, founded in 1979 by Josef Reiterer. Its geographical position is an important factor in the quality of its wines: located at 1,200 meters above sea level, the Arunda Winery holds the record as the highest winery in Europe. The favorable climatic conditions, with natural temperature fluctuations, allow for a slow and natural maturation of the wines, which are distinguished by their elegance, complexity and richness. The cellar uses the highest quality raw materials from the best terroirs of South Tyrol, including Appiano, Cornaiano, Terlano and Bassa Atesina and works in close collaboration with small independent producers to guarantee the constant quality of its wines. The company was founded thanks to the passion and innovation of Josef Reiterer, who was able to create a successful winery that combines tradition and modernity. Arunda signed labels represent the elegance, richness and complexity of Alto Adige wines, offering a unique and authentic tasting experience.