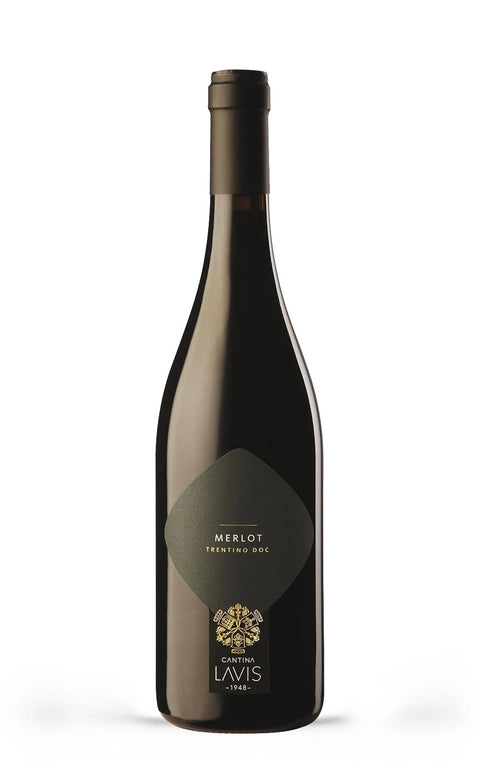 Merlot Trentino DOC 2020 - Lavis
Elegant Complex Fruity
What do we mean by these definitions? Click HERE to find out!
Merlot Lavis Trentino DOC is a wine that represents a sublime expression of the Merlot vine, originally from France but which found its ideal home in the foothill and valley vineyards of Lavis. This unique terroir, composed of loose and skeletal soils, favors early ripening of the vine, allowing it to express itself in all its purity and complexity. Cultivated with traditional methods in the localities of Sorni and Gardolo, this Merlot grows in sandy loam soils, originating from alluvial debris in the valley bottoms and deep, silty soils in the hills. The west and south-west exposure and the altitude of 280 meters above sea level contribute to creating an ideal microclimate for the development of the vine. The manual harvest takes place in the first ten days of October, followed by fermentation at a controlled temperature in stainless steel tanks. After a 48-hour static decantation, the wine undergoes malolactic fermentation in vitrified reinforced concrete tanks. The refinement on the lyses lasts approximately 5-6 months, with 90% of the wine in cement and the remaining 10% in third and fourth passage French oak. The result is a wine with a rich, deep ruby red color, which enchants the nose with its innate elegance. The bouquet is intense and fruity, with dominant hints of blackberries and plums. On the palate, Merlot Lavis is balanced and full-bodied, with a sustained persistence that makes it an ideal companion for traditional Italian dishes such as lasagne Bolognese and baked lamb, or for grilled pork chops.
Appellation: Merlot Trentino DOC
Vintage: 2020
Dosage: Dry
Grape variety: Merlot
Region: Trentino Alto Adige (IT), Lavis (TN)
Refinement: Steel and French oak wood
Serving temperature: 16/18°C
Alcohol content: 13% vol.
Cantina Lavis is one of the most renowned cooperatives in Trentino and has its headquarters in the municipality of La-Vis where it was founded in 1948. Nowadays there are about 800 members contributing to about 750 hectares of vineyards with an altimetric layout that varies from 200mt to 800mt guaranteeing organoleptic richness and variety; the fine and elegant white vines are grown in the mountains, while the intense and structured reds are grown in the hills. The wines of the Cantina di Lavis and Valle di Cembra are a representation of the winemaking tradition that combines nature with technique in a mountain context that is unique in the world.