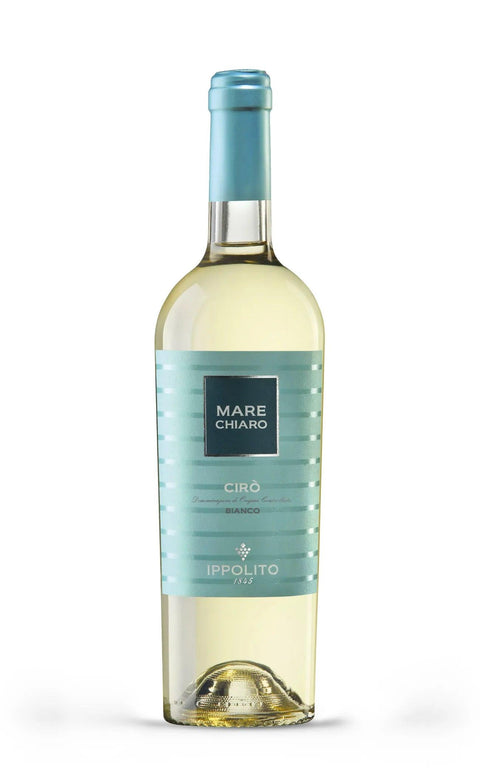 Cirò Bianco Mare Chiaro DOC 2022 - Ippolito
Exuberant Sapid Mineral
What do we mean by these definitions? Click HERE to find out!
Discover Cantina Ippolito's Ciro Bianco Mare Chiaro, a white wine that captures the essence of Calabria through its native Greco Bianco grape. This wine pays tribute to the Ionian Sea, with vineyards overlooking it. On the nose, you'll be greeted by evocative notes of tropical fruit, pear, and peach, while the palate will surprise you with its minerality and a slight salinity that evokes the sea breeze. Its structure is like a captivating tale—complex yet harmonious, inviting you to discover every nuance. Ideal for pairing with seafood and white meats, this wine is the perfect choice for those seeking an authentic and distinctive oenological experience. Allow yourself to be enveloped by its elegance and complexity.
Denomination: Cirò DOC
Vintage: 2022
Dosage: Dry
Grape variety: Greco Bianco
Region: Calabria (IT), Cirò Marina (KR)
Refinement: Steel
Serving temperature: 8/10°C
Alcohol content: 13% vol.

The historic Ippolito winery founded in 1845 can boast 100 hectares of vineyards in the heart of the Cirò DOC distributed in three estates: Mancuso, Feudo and Difesa Piana. The vines used are native: Gaglioppo, Greco Bianco, Calabrese, Pecorello and Greco Nero. Particular attention is paid to enhancing these blends in order to protect and respect the traditions together with modern and sophisticated winemaking techniques to produce wines of undisputed quality and value .