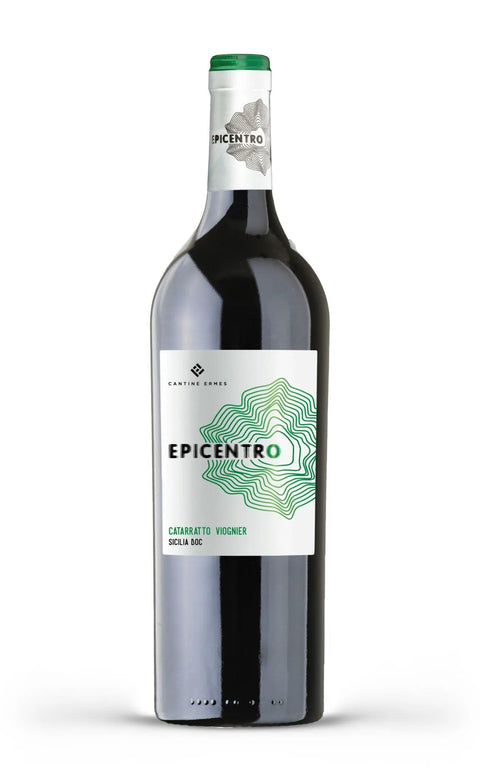 Catarratto Viognier Epicentro Sicilia DOC 2021 - Cantine Ermes
Noble Mineral Complex
What do we mean by these definitions? Click HERE to find out!
Discover the harmony of Epicentro Bianco, a wine that embodies the essence of Sicily. The fusion of Catarratto, indigenous to the region, with Viognier creates a surprising balance. It presents a straw yellow color with greenish reflections. The bouquet offers an explosion of floral and fruity aromas, with notes of peach and citrus. On the palate, this wine surprises with its freshness and minerality, balanced by a soft structure and a persistent finish. Perfect paired with fish dishes, fresh cheeses, and white meats.

Denomination: Sicilia DOC
Vintage: 2021
Dosage: Dry
Grape Variety: Catarratto/Viognier
Region: Sicily (IT), Gibellina (TP)
Aging: Steel/Wood
Serving Temperature: 16/18°C
Alcohol Content: 13% vol.

Cantine Ermes represents one of the most dynamic and innovative wineries in the Sicilian landscape. Located in the heart of the region, this winery stands out for its dedication to expressing the authenticity and richness of the Sicilian terroir through a wide range of wines. Their commitment to sustainable viticulture is fundamental, reflecting in the quality of their products and respect for the environment. The wines of Cantine Ermes are the result of a wise combination of cutting-edge production methods and centuries-old winemaking traditions, thus creating labels that encapsulate the passion and art of winemaking. Each bottle is a journey into the history and flavors of Sicily, offering a unique and unforgettable sensory experience.