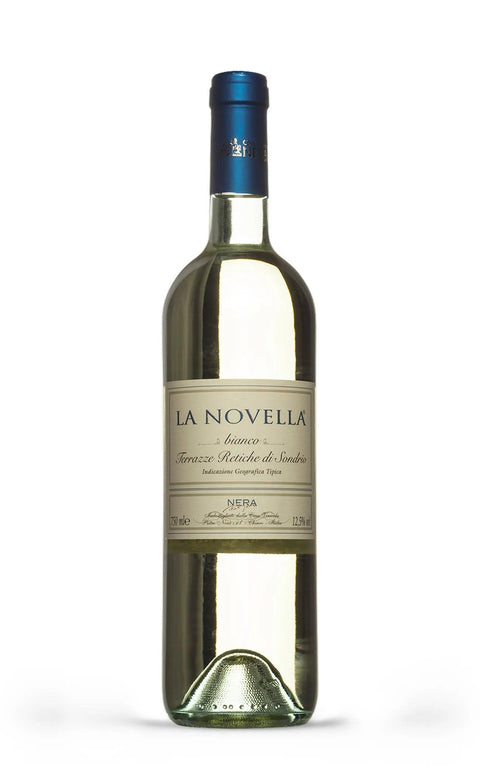 Bianco Alpi Retiche La Novella IGT 2019 - Pietro Nera
Floral Aromatic Erbs Mineral
What do we mean by these definitions? Click HERE to find out!
Imagine yourself in an alpine garden, where the wind gently blows through white flowers and green leaves. This is the first olfactory impact of the Bianco Alpi Retiche La Novella IGT by Pietro Nera. Produced in the Valtellina region, this wine is an intriguing blend of Nebbiolo, Chardonnay, and Incrocio Manzoni. On the nose, there are notes of lemon, green apple, and white flowers, with a subtle hint of wet stone minerality. On the palate, the wine is crisp and dry, with a medium body and refreshing acidity. Flavors of lemon and green apple dominate, with a slight herbal note in the background. The wine has a long and refreshing finish that leaves a pleasant, citrusy, and mineral aftertaste.
Denomination: Rhaetian Alps IGT
Vintage: 2019
Dosage: Dry
Grapes: Nebbiolo, Chardonnay and Incrocio Manzoni
Region: Lombardy (IT), Chiuro (SO)
Refinement: Steel
Serving temperature: 8/10°C
Alcohol content: 12.5% ​​vol.
With over 70 years of history, the Pietro Nera winery is one of the most important and prestigious wineries in Valtellina. Work in the vineyard is one of the main factors for the creation of great wines and in Valtellina there is so much work, so much so that it can be defined as heroic viticulture. Decades of tradition, combined with rigorous attention in the cellar, lead to an extraordinary result: Pietro Nera's wines.