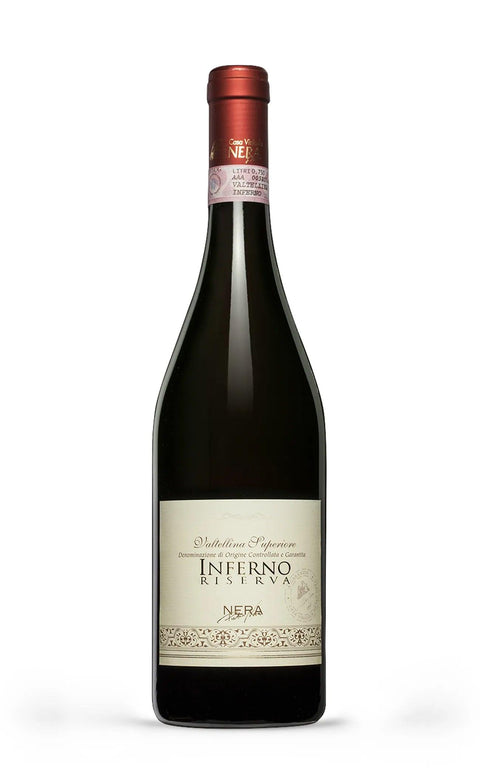 Valtellina Superiore Riserva Inferno DOCG 2013 - Pietro Nera
Elegant Noble Complex
What do we mean by these definitions? Click HERE to find out!
Produced by one of the most prestigious and historic wineries in Valtellina, with over 70 years of history, this wine is a masterpiece of Nebbiolo, locally known as Chiavennasca. The vineyard is located in the Lombardy region, specifically in Chiuro (SO). The refinement in oak barrels gives the wine an extraordinary complexity and structure. This wine reveals itself in all its magnificence. The viticulture here is so intense and meticulous that it is defined as "heroic," a term that captures the essence of the hard work and passion that fuel the creation of this exceptional wine. This wine pairs wonderfully with robust and flavorful dishes, such as red meat roasts and aged cheeses.
Denomination: Valtellina Superiore Riserva DOCG
Vintage: 2013
Dosage: Dry
Grape variety: Nebbiolo - Chiavennasca
Region: Lombardy (IT), Chiuro (SO)
Refinement: Oak barrels
Serving temperature: 16/18°C
Alcohol content: 13% vol.
With over 70 years of history, the Pietro Nera winery is one of the most important and prestigious wineries in Valtellina. Work in the vineyard is one of the main factors for the creation of great wines and in Valtellina there is so much work, so much so that it can be defined as heroic viticulture. Decades of tradition, combined with rigorous attention in the cellar, lead to an extraordinary result: Pietro Nera's wines.