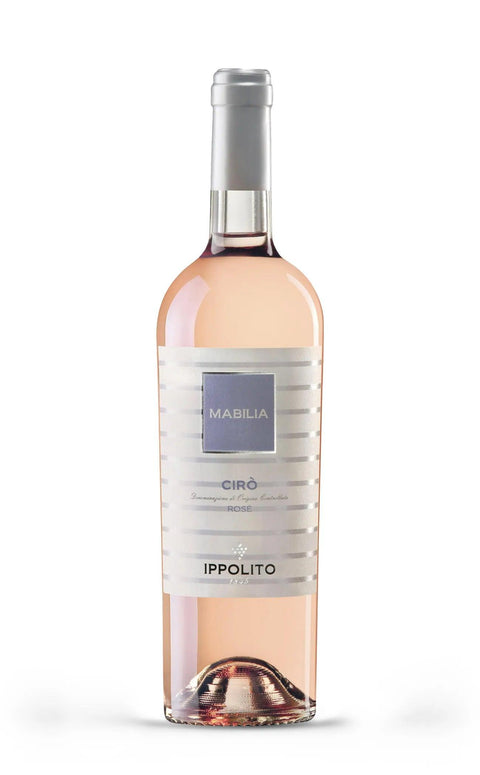 Cirò Rosè Mabilia DOC 2022 - Ippolito
Sapid Floral Fruity
What do we mean by these definitions? Click HERE to find out!
The Cirò Rosè Mabilia DOC by Ippolito is a wine that enchants at first glance with its brilliant pink color enriched by violet hues. Produced in Calabria, this wine is the result of a meticulous maceration of the finest grapes for 24 hours at a controlled temperature. On the nose, it stands out for a delicate and fruity bouquet, dominated by notes of sour black cherries and rose petals. This wine not only delights the palate but also the soul, thanks to its freshness and aromatic persistence. Ideal for being enjoyed on special occasions or during a romantic dinner, it pairs perfectly with light appetizers and fish-based dishes.
Denomination: Cirò DOC
Vintage: 2022
Dosage: Dry
Grape variety: Gaglioppo
Region: Calabria (IT), Cirò Marina (KR)
Aging: Steel
Serving temperature: 8/10°C
Alcohol content: 13% vol.

The historic Ippolito winery founded in 1845 can boast 100 hectares of vineyards in the heart of the Cirò DOC distributed across three estates: Mancuso, Feudo and Difesa Piana. The vines used are native: Gaglioppo, Greco Bianco, Calabrese, Pecorello and Greco Nero. Particular attention is paid to enhancing these grape varieties in order to protect and respect traditions together with modern and sophisticated winemaking techniques to produce wines of undisputed value and quality .