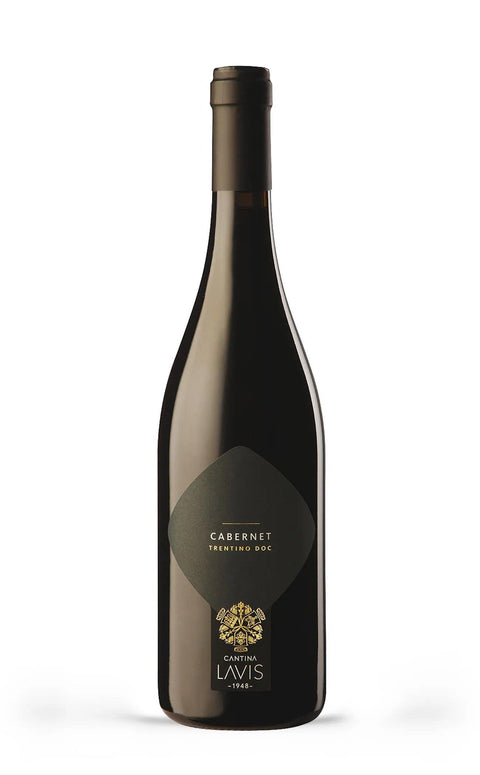 Cabernet Trentino DOC 2020 - Lavis
Elegant Fresh Fruity
What do we mean by these definitions? Click HERE to find out!
The Cabernet Lavis from Cantina La Vis stands as an impeccable testament to the viticultural prowess of the Trentino region. Nestled in the northern expanses of Italy, this alpine territory is celebrated for its multiplicity of soils and grape cultivars. This wine illustrates how tradition and innovation can harmoniously coalesce in the realm of winemaking. Cultivated in the specific areas of Lavis, Pressano, and Sorni, the Cabernet Lavis thrives in sandy and clayey soils—shallow yet moderately fertile, tinged with a delicate calcareous nature originating from silty and dolomitic deposits. The harvest is manually undertaken in early October, succeeded by controlled-temperature fermentation in stainless steel tanks and malolactic fermentation in reinforced concrete vessels. Thereafter, the wine undergoes a yeast lees maturation for approximately 5-6 months—90% in concrete tanks and 10% in French oak barriques, which have been previously employed three or four times. The visual character of the wine is a profound ruby red, mirroring the passionate vitality of its terroir. Aromatically, it presents a complex and captivating bouquet replete with nuances of ripe red fruits, spices, and a deft touch of seamlessly integrated wood. On the palate, the wine displays a structured yet balanced framework, complemented by supple tannins that escort a long and gratifying aromatic finish. With an alcohol content of 13.5%, this is a wine that not only invites immediate savoring but also heralds significant aging potential. Perfect with Pasta, Pizza but also Red meats.

Denomination: Cabernet Trentino DOC
Vintage: 2020
Dosage: Dry
Grape variety: Cabernet
Region: Trentino Alto Adige (IT), Lavis (TN)
Refinement: Steel and French oak wood
Serving temperature: 16/18°C
Alcohol content: 13% vol.
Cantina Lavis is one of the most renowned cooperatives in Trentino and has its headquarters in the municipality of La-Vis where it was founded in 1948. Nowadays there are about 800 members contributing to about 750 hectares of vineyards with an altimetric layout that varies from 200mt to 800mt guaranteeing organoleptic richness and variety; the fine and elegant white vines are grown in the mountains, while the intense and structured reds are grown in the hills. The wines of the Cantina di Lavis and Valle di Cembra are a representation of the winemaking tradition that combines nature with technique in a mountain context that is unique in the world.