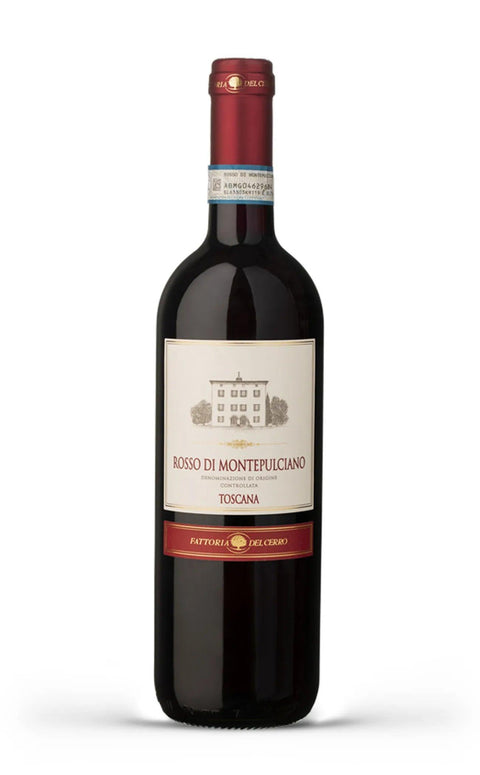 Rosso di Montepulciano DOC 2020 - Fattoria del Cerro
Light Balanced Fresh
$10.00
$12.00
you save $2.00
What do we mean by these definitions? Click HERE to find out!
The Rosso di Montepulciano is a DOC wine primarily made from Sangiovese grapes. The taste is well-balanced, refined, and starts with a light tannic note. This wine pairs perfectly with appetizers, pasta dishes with red meat sauce or stuffed pasta, and grilled red meat entrees. Visually, the wine presents itself with an intense and structured red color. On the nose, it offers a complex bouquet with hints of toasted notes such as tobacco, vanilla, and chocolate. On the palate, the structure is intense yet balanced, with soft tannins that blend seamlessly with a pleasant acidity and well-defined minerality.
This wine is remarkable for its well-constructed structure and the balance between aromatic and taste components. It is a wine that can be appreciated both in the short term and over the long haul, thanks to its ability to evolve and mature over time. It pairs wonderfully with a variety of dishes, from red meats to aged cheeses. This wine speaks of tradition, terroir, and passion, and serves as a true tribute to the richness and diversity of the Tuscan wine landscape.


Denomination: Rosso di Montepulciano DOC
Vintage: 2020
Dosage: Dry
Grape variety: Sangiovese
Region: Tuscany (IT), Montepulciano (SI)
Refinement: Steel
Serving temperature: 16/18°C
Alcohol content: 12.5% ​​vol.
Fattoria del Cerro located in Acquaviva in Montepulciano can count on 600 hectares of property of which 181 are vineyards; more than half of them in the Vino Nobile di Montepulciano area, making it the largest privately owned reality of the appellation. The separate management of the single parcels of vineyard, together with the use of advanced technologies in the cellar, mean that it is possible to obtain a wine capable of excelling in terms of its quality, structure and finesse.