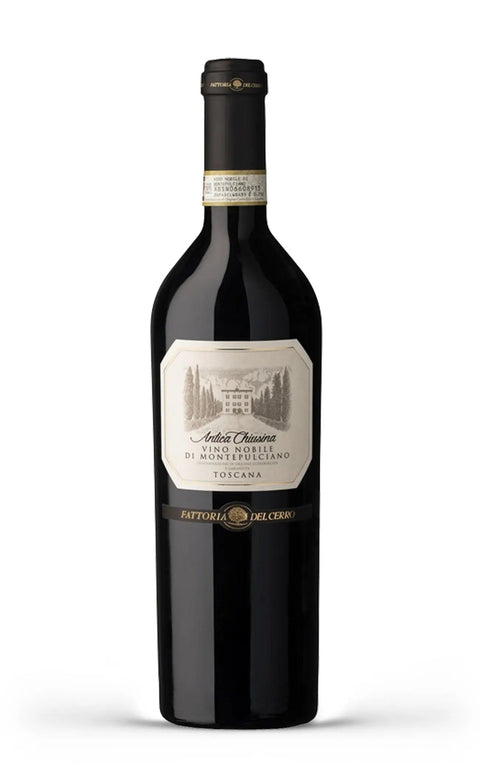 Vino Nobile di Montepulciano DOCG Antica Chiusina 2016 - Fattoria del Cerro
Noble Elegant Spicy
What do we mean by these definitions? Click HERE to find out!
The Vino Nobile di Montepulciano DOCG Antica Chiusina by Fattoria del Cerro is an enological masterpiece. Its olfactory elegance takes you on a sensory journey: ripe red fruit notes, spicy accents, and a touch of vanilla. On the palate, its complexity unfolds in layers of flavors ranging from black cherry to plum, enriched by nuances of tobacco and chocolate. Aging in wood enhances its structure, making it a wine of remarkable longevity. Ideal for a candlelit romantic dinner, it pairs beautifully with red meat dishes and aged cheeses.
Denomination: Vino Nobile di Montepulciano DOCG
Vintage: 2016
Dosage: Dry
Grape variety: Sangiovese
Region: Tuscany (IT), Montepulciano (SI)
Refinement: French oak wood
Serving temperature: 16/18°C
Alcohol content: 14% vol.
Fattoria del Cerro located in Acquaviva in Montepulciano can count on 600 hectares of property of which 181 are vineyards; more than half of them in the Vino Nobile di Montepulciano area, making it the largest privately owned reality of the appellation. The separate management of the single parcels of vineyard, together with the use of advanced technologies in the cellar, mean that it is possible to obtain a wine capable of excelling in terms of its quality, structure and finesse.