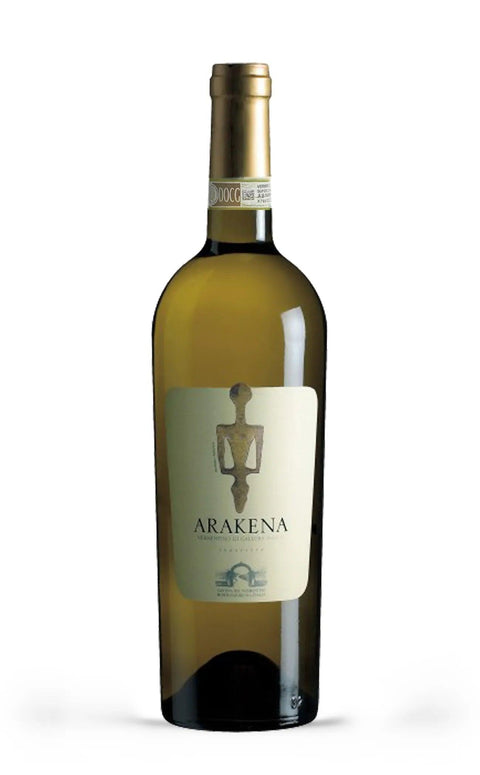 Vermentino di Gallura Superiore Arakena DOCG 2020 - Cantina del Vermentino
Full-bodied Complex Savory
What do we mean by these definitions? Click HERE to find out!
Discover the Vermentino di Gallura Superiore Arakena from Cantina del Vermentino, a white wine that embodies the essence of Gallura in Sardinia. Produced with meticulous attention to detail, this wine stands out for its brilliant golden-yellow color. On the nose, it offers an evocative bouquet of ripe fruit, peach, and apricot, enriched by balsamic sensations reminiscent of the Mediterranean scrub. The palate is enveloped in citrus nuances and mineral accents, which counterbalance a full-bodied and balanced structure. Elevated in French oak tonneaux, this wine is a sublime example of how tradition and innovation can coexist. Perfect for pairing with fish dishes or white meats, it is a wine that not only delights the senses but also tells a story. Let yourself be seduced by its complexity and irresistible charm.
Denomination: Vermentino di Gallura DOCG
Vintage: 2020
Dosage: Dry
Grape variety: Vermentino
Region: Sardinia (IT), Monti (OT)
Refinement: Barrique
Serving temperature: 8/10°C
Alcohol content: 14.50% vol.
The Cantina del Vermentino is now a point of reference for Sardinian and Italian wine production, especially for the production of Vermentino di Gallura. The historic winery founded in 1956, today has 250 members for an area of ​​500 hectares distributed among the municipalities of Monti, Telti, Olbia and Loiri Porto San Paolo. The unique terroir of its kind thanks to the sandy granite soils, rich in potassium combined with the high temperature ranges and the sea breeze from the Costa Smeralda guarantee wines of marked sapidity and complexity. These characteristics are enhanced by the skilful hand of the oenologist Alberto Raccanelli who, also thanks to the most modern technologies in the Cellar, creates, year after year, excellent, fine and elegant wines that bring prestige to the territory they represent.