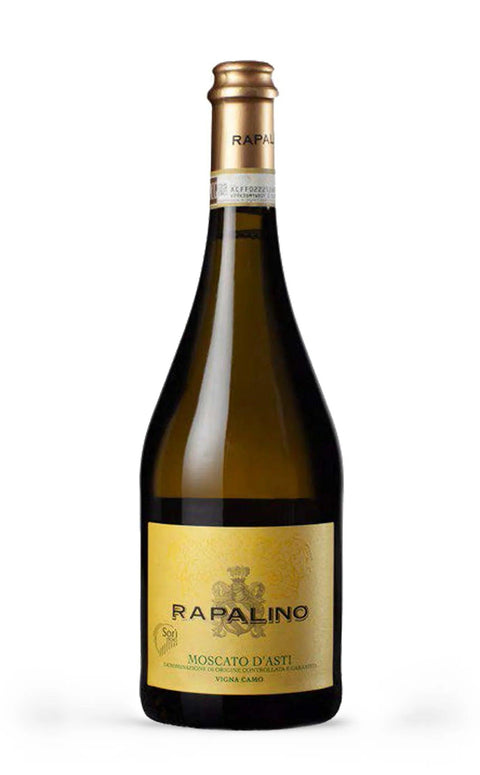 Moscato d'Asti Vigna Camo DOCG 2022 - Rapalino
Aromatic Complex Floral
What do we mean by these definitions? Click HERE to find out!
The Moscato d'Asti Vigna Camo DOCG by Rapalino is a sparkling wine that embodies the essence of Piedmont, an Italian region famous for its high-quality wines. Made from carefully cultivated Moscato grapes from the Vigna Camo vineyards, this wine promises a unique olfactory and taste experience. On the nose, you'll find floral and fruity notes, a tribute to the Moscato variety it comes from. In the mouth, the wine is sweet yet balanced, with a light effervescence that makes it incredibly refreshing. Ideal for special occasions or as an aperitif, this Moscato d'Asti pairs wonderfully with fruit desserts or blue cheeses.
Denomination: Moscato d'Asti DOCG
Vintage: 2022
Dosage: Sweet
Grape variety: Moscato d'Asti
Region: Piedmont (IT), Neviglie (CN)
Aging: Steel
Serving temperature: 8/10°C
Alcohol content: 5.5% vol.
The Rapalino winery is a small family-run farm, managed by the brothers Claudio and Marco, helped by their father Giorgio. The vineyards are located in Alba, Treiso, Neviglie and Moscato in Mango and Camo. Great attention to the tradition carried out first in the vineyard and then in the cellar, in order to ensure the maximum quality of every single bottle.