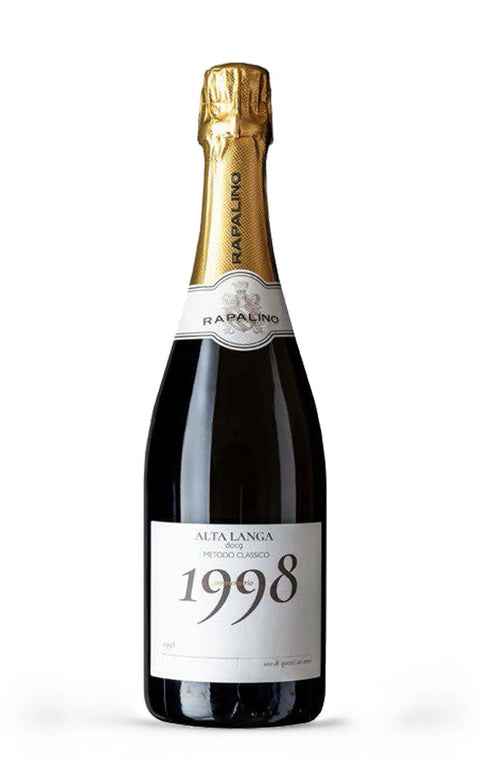 Alta Langa 1998 Pas Dosè DOCG 2018 - Rapalino
Complex Toasted Bubbly wine
What do we mean by these definitions? Click HERE to find out!
Immerse yourself in the sophisticated allure of Rapalino's Alta Langa 1998 Pas Dosè DOCG, a sparkling wine that embodies the elegance of Piedmont. Produced through the Metodo Classico, this wine harmoniously blends Chardonnay and Pinot Noir, aged for 36 months to achieve its complexity. Its visual appearance is an invitation to discovery: a creamy foam that dissolves into a glass of effervescent pearls. On the nose, you'll be greeted by a bouquet of citrus and white flowers, a prelude to its taste profile. On the palate, the wine bursts with flavors: notes of green apple, peach, and a touch of almond, all balanced by refreshing minerality. Its structure is like an enveloping hug, yet never overwhelming, perfect for an aperitif or to accompany vegetable and seafood crudités. Allow yourself to be seduced by its elegance and discover how each sip tells the story of the Piedmont hills.
Denomination: Alta Langa DOCG
Vintage: 2018
Dosage: Pas Dosè
Grape variety: Chardonnay and Pinot Noir
Region: Piedmont (IT), Neviglie (CN)
Aging: 36 months on yeasts
Serving temperature: 6/8°C
Alcohol content: 13.5% vol.

The Rapalino winery is a small family-run farm, managed by the brothers Claudio and Marco, helped by their father Giorgio. The vineyards are located in Alba, Treiso, Neviglie and Moscato in Mango and Camo. Great attention to the tradition carried out first in the vineyard and then in the cellar, in order to ensure the maximum quality of every single bottle.