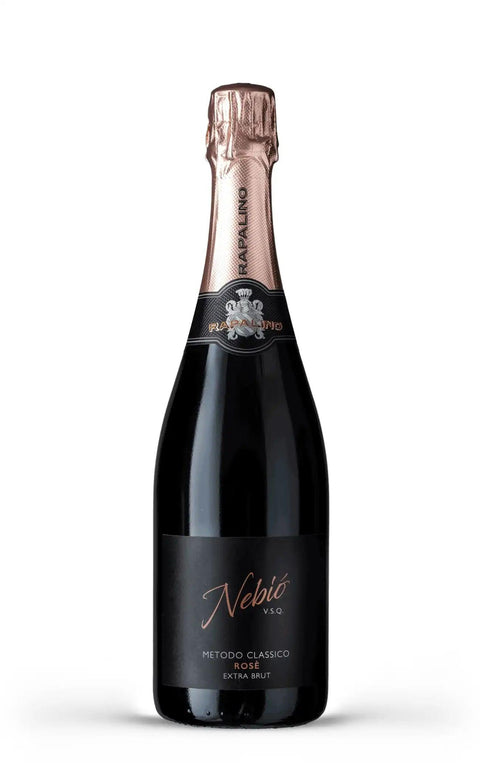 Metodo Classico Nebiò Rosato Extra Brut DOCG 2017 - Rapalino
Fragrant Complex Floral
What do we mean by these definitions? Click HERE to find out!
Nebbiolo cultivated with passion in the lands of Alba, Treiso and Neviglie is used. The wine spends more than 55 months on the yeasts, a process that gives it an unparalleled olfactory and gustatory complexity. At sight, the wine presents itself with an antique pink hue, almost like a summer sunset on the Piedmontese hills. On the nose, notes of wild red fruits and wild flowers emerge, a bouquet that evokes the uncontaminated nature of the region. In the mouth, the wine is an explosion of flavors, with a solid structure and a complex and persistent finish. Ideal for aperitifs or to accompany elaborate starters, medium-aged cheeses and foie gras.
Denomination: Alta Langa DOCG
Vintage: 2017
Dosage: Extra Brut
Grapes: Chardonnay and Pinot Noir
Region: Piedmont (IT), Neviglie (CN)
Refinement: 36 months on the lees
Serving temperature: 6/8°C
Alcohol content: 13.5% vol.

The Rapalino winery is a small family-run farm, managed by the brothers Claudio and Marco, helped by their father Giorgio. The vineyards are located in Alba, Treiso, Neviglie and Moscato in Mango and Camo. A great attention to the tradition carried out first in the vineyard and then in the cellar, in order to ensure the highest quality of each single bottle.