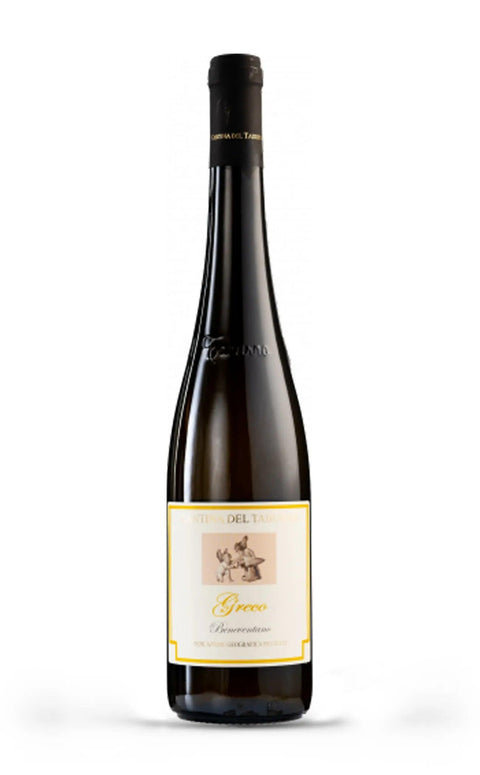 Greco IGP 2021 - Cantina del Taburno
Fruity Elegant Citrusy
What do we mean by these definitions? Click HERE to find out!
This white wine is an ode to complexity and concentration. Produced in the Campania region, specifically in Foglianise, this wine is a true Italian gem. Its concentration is evident not only in its golden-yellow color but also in its olfactory profile. The aroma is an intricate weave of dried apricot, citrus peel, and honey notes, enveloping you like a summer breeze. There is no aging in wood, but the wine is refined in steel, maintaining its freshness and vitality. This wine is the perfect accompaniment for a seaside dinner, perhaps with a dish of seafood or grilled fish.
Denomination: Greek IGP
Vintage: 2021
Dosage: Dry
Grape variety: Greek
Region: Campania (IT), Foglianise (BN)
Refinement: Steel
Serving temperature: 8/10°C
Alcohol content: 13% vol.
Located on the slopes of Monte Taburno, the Cantina del Taburno born in 1972 has always been a point of reference for the viticulture of the area. To date, the grapes from about 600 hectares of vineyards distributed in the municipalities on the slopes of the mountain are vinified. The ecosystem of this area is unique both for the nature and exposure of the land and for the microclimate and the vines used.
The wines produced are the result of meticulous and rigorous viticultural and oenological research, they are the maximum qualitative expression of the 13 municipalities and the 8 grape varieties adopted and fully respect the millenary history of the territory.