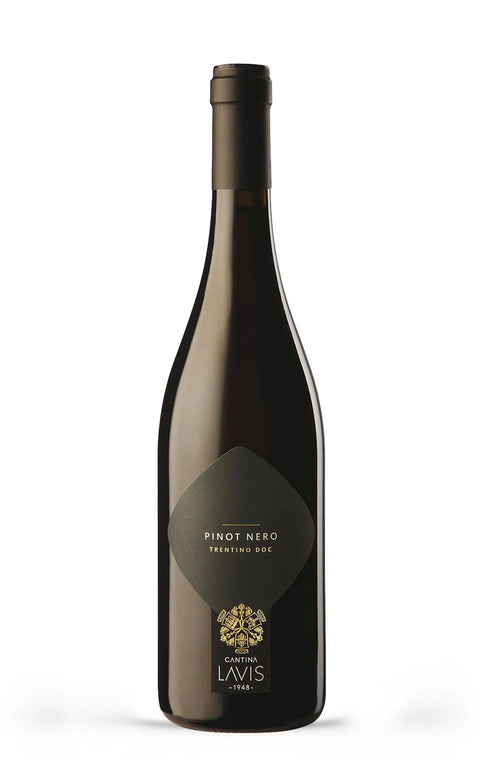 Pinot Nero Trentino DOC 2022 - Lavis
Fresh Elegant Fruity
What do we mean by these definitions? Click HERE to find out!
The Pinot Nero Trentino DOC from Lavis is a wine that enchants from the very first sip. Made with 100% Pinot Nero grapes, this wine is an ode to elegance and refinement. Its appearance is a bright ruby red that promises an enveloping drink. On the nose, you perceive notes of ripe red fruits and a slight hint of spices. In the mouth, its structure is well balanced, with soft tannins that make it incredibly drinkable. Although there is no information on its aging, the wine shows great potential for evolution. Ideal for pairings with white and red meats, roasts in general, tenderloin, and game. A wine that perfectly adapts to elegant dinners or moments of pure relaxation.
Denomination: Pinot Nero Trentino DOC
Vintage: 2022
Dosage: Dry
Grape variety: Pinot Noir
Region: Trentino Alto Adige (IT), Lavis (TN)
Aging: Steel and French oak barriques
Serving temperature: 16/18°C
Alcohol content: 13% vol.
Cantina Lavis is one of the most renowned cooperatives in Trentino and is based in the municipality of La-Vis where it was founded in 1948. Nowadays there are around 800 contributing members for around 750 hectares of vineyards with an altitude ranging from 200m to 800m guaranteeing organoleptic richness and variety; the fine and elegant white vines are grown in the mountains, while the intense and structured reds are grown in the hills. The wines of the Lavis and Valle di Cembra winery are a representation of the winemaking tradition that combines nature with technique in a mountain context unique in the world.