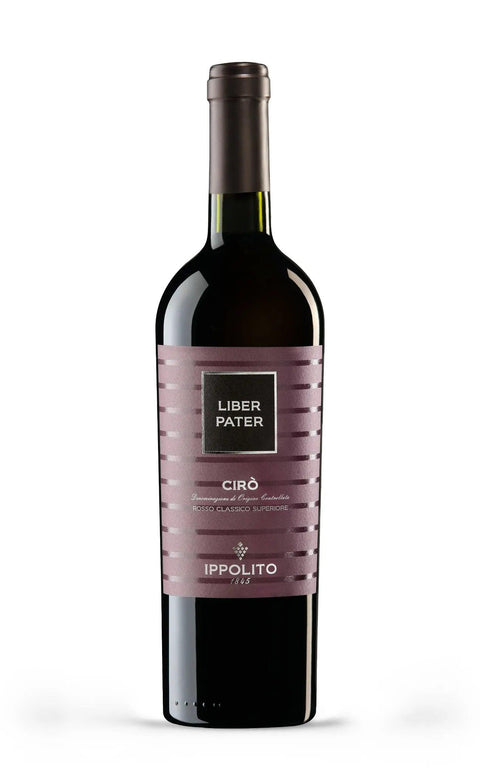 Cirò Rosso Liber Pater DOC 2020 - Ippolito
Soft Spicy Fruity
What do we mean by these definitions? Click HERE to find out!
The Cirò Rosso Liber Pater by Ippolito is a wine that celebrates Liber Pater, the Italic deity of wine and vineyards. Produced primarily from Gaglioppo grapes, an ancient and indigenous varietal of Calabria, this wine embodies the power and elegance of this grape variety.
Cultivated in soils that reflect the strength of its land of origin, the Cirò Rosso Liber Pater is a living portrait of Calabrian winemaking. The harvest is an accurate and meticulous process, followed by fermentation in stainless steel tanks to preserve the integrity of the fruit. The aging takes place in oak barrels, imparting complexity and depth to the wine that manifest in every sip.
Visually, the wine presents itself with a deep ruby-red color, enriched by garnet reflections. On the nose, the bouquet is a symphony of aromas: notes of berries, spices, and light nuances of leather and tobacco. In the mouth, the structure is robust yet incredibly balanced, with soft tannins and a well-defined minerality.
This wine is remarkable for its well-constructed structure and the balance between aromatic and taste components. It is a wine that can be appreciated both in the short term and over the long haul, thanks to its ability to evolve and mature over time. It pairs splendidly with a variety of dishes, from red meats to aged cheeses. This wine speaks of tradition, terroir, and passion, and represents a true homage to the richness and diversity of the Calabrian wine landscape.
Denomination: Cirò DOC
Vintage: 2020
Dosage: Dry
Grape variety: Gaglioppo
Region: Calabria (IT), Cirò Marina (KR)
Refinement: Barriques
Serving temperature: 16/18°C
Alcohol content: 14% vol.

The historic Ippolito winery founded in 1845 can boast 100 hectares of vineyards in the heart of the Cirò DOC distributed in three estates: Mancuso, Feudo and Difesa Piana. The vines used are native: Gaglioppo, Greco Bianco, Calabrese, Pecorello and Greco Nero. Particular attention is paid to enhancing these blends in order to protect and respect the traditions together with modern and sophisticated winemaking techniques to produce wines of undisputed quality and value .