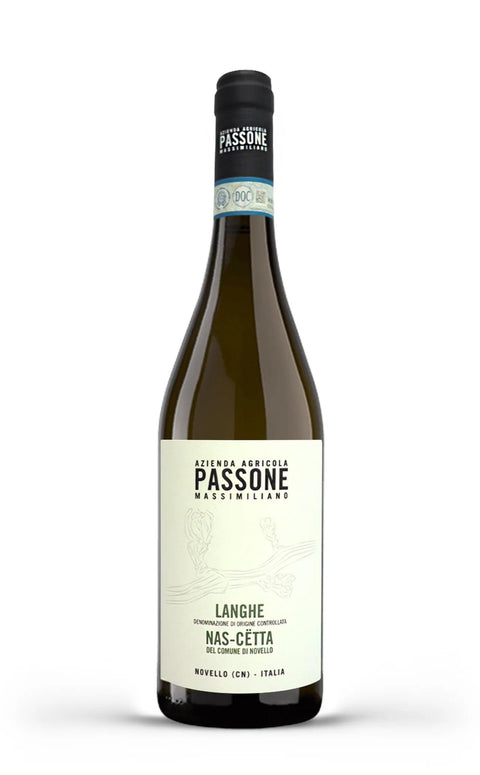 Nascetta del Comune di Novello Langhe DOC 2021 - Passone
Aromatic Sapid Mineral
What do we mean by these definitions? Click HERE to find out!
The Nascetta del Comune di Novello Langhe DOC is produced exclusively with Nascetta grapes coming from the Novello sub-area. Winemaking takes place in stainless steel tanks, where the wine matures on its own yeasts, enhancing its aromatic complexity. On the nose, the wine releases an intriguing bouquet of white flowers, green apple and a touch of sage. On the palate, it is a riot of flavours: citrus notes blend with an almost savory mineral undertone, giving life to a balanced and harmonious wine. Its structure makes it an ideal companion for a variety of dishes, from seafood appetizers to asparagus risotto.
Denomination: Langhe Nascetta del Comune di Novello DOC
Vintage: 2021
Dosage: Dry
Grape variety: Nascetta
Region: Piedmont (IT), Novello (CN)
Refinement: Steel
Serving temperature: 8/10°C
Alcohol content: 14% vol.
The Passone Massimiliano company, rooted in the heart of the Langhe in Novello, was founded by father Renzo, who dedicated himself to the cultivation of Nas-cëtta grapes, a native variety of the area. In 2020 the cellar was inaugurated, located in the suggestive Località Corini, where they produce the Langhe Doc Nas-cëtta of the Municipality of Novello. The cellar represents the perfect union between the winemaking tradition of four generations of winemakers and the passion for the production of high quality wines. The vinification of only the best grapes from the vineyards owned by the family vineyards is carried out only in steel, with the aim of not overpowering the particularities of the blend. It is the only company that produces the classic method of Nascetta, a very special and unique wine of its kind, which could prove to be very interesting in future aging. Obviously the Nascetta from the municipality of Novello is the spearhead of the company's production, the wine is released a few years after the harvest so that it is ready for consumption with notes of marked acidity and fragrance which over time give way to balsamic and persistent floral.