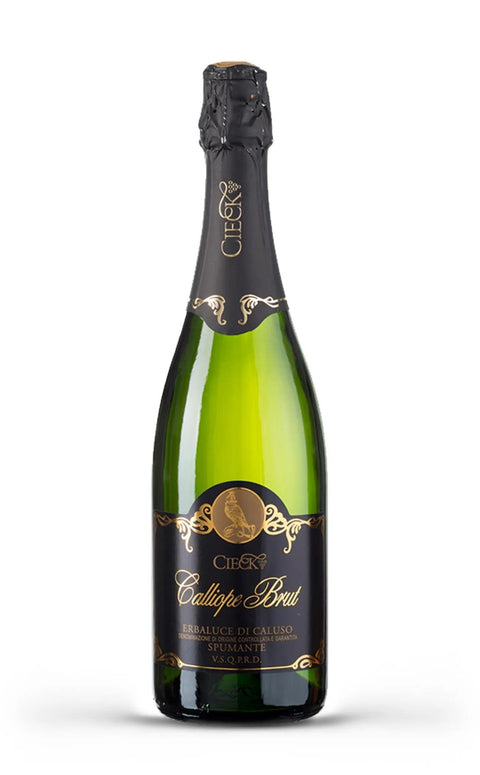 Metodo Classico Caluso DOCG Calliope Brut 2018 - Cieck
Fragrant Complex Elegant
What do we mean by these definitions? Click HERE to find out!
The Metodo Classico Caluso DOCG Calliope Brut by Cieck is a hymn to refinement and elegance. Produced in the Piedmont region, this Italian sparkling wine is a true oenological gem. Its structure is harmonious, supported by a lively acidity that perfectly blends with persistent sensations of yeast and crusty bread. The visual aspect is a bright straw yellow, while the olfactory profile is a complex bouquet of tropical fruits and floral notes.
Ideal as an aperitif, this wine pairs magnificently with aged cheeses and elaborate fish dishes with flavorful sauces. Its versatility makes it perfect for celebrating special occasions or elevating an intimate dinner.
Denomination: Caluso DOCG
Vintage: 2018
Dosage: Brut
Grape variety: Erbaluce di Caluso
Region: Piedmont (IT), San Giorgio Canavese (TO)
Refinement: 48 months on the lees
Serving temperature: 6/8°C
Alcohol content: 12.5% ​​vol.
The Cieck winery, located between Turin and Ivrea, in the heart of Piedmont, specializes in the cultivation of native vines such as Erbaluce, Nebbiolo, Barbera, Neretto and Freisa. Their peculiarity is the pergola vineyards, a training system that creates large pergolas in the vineyard, where the grapes are harvested by collecting the bunches at the top. The winery was born in 1985 as a small sparkling wine house, founded by Remo Falconieri, son of farmers and designer of typewriters at Olivetti. Today the winery is managed by three family members: Domenico Caretto, agronomist and head of the vineyards and the cellar, Lia Falconieri, head of administration, commercial and communication and the founder Remo Falconieri, nicknamed "the Archimedes of bubbles ". Each vineyard has a name, a soul and a story, such as the Misobolo, the oldest vineyard where there is still an ungrafted vine that is almost a century old. The new cellar, born in 2013 in the heart of the Erbaluce rows, is a modern, technological and green project at the same time, which reflects the passion and dedication of the Falconieri for the production of high quality wines. Try their wines: from the Erbaluce Classic Method to Nebbiolo and Freisa, and discover the soul of Piedmont in every sip.