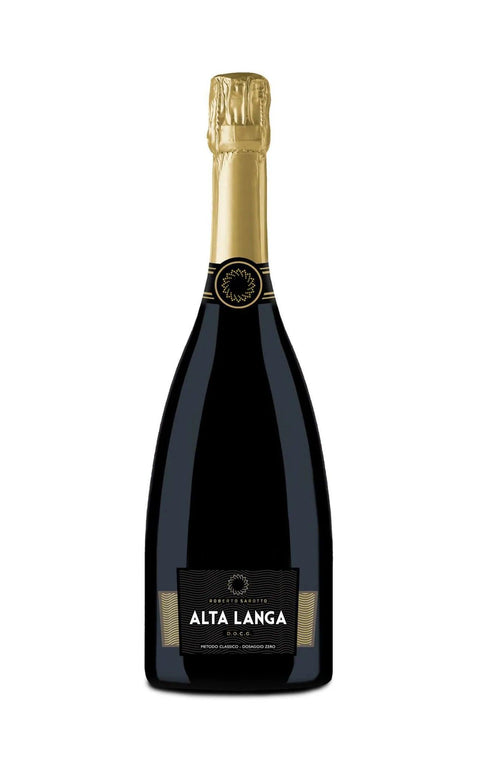 Alta Langa Metodo Classico Dosaggio Zero DOCG 2017 Magnum - Roberto Sarotto
Complex Balanced Sparkling
What do we mean by these definitions? Click HERE to find out!
Immerse yourself in the sensory experience offered by Roberto Sarotto's Alta Langa Metodo Classico Dosaggio Zero DOCG. This sparkling wine, hailing from the hills of Piedmont, is an ode to purity and elegance. Crafted with Chardonnay grapes grown on limestone marl soils, this wine stands out for its straw-yellow color, as luminous as a summer sunset. On the nose, you'll detect floral and fruity notes, a bouquet that evokes the freshness of a blooming garden. On the palate, its structure is like a delicate embrace, with a persistence that leaves a lasting impression. The absence of sugar dosage enhances its authentic nature, making it an ideal companion for special occasions. Pair it with seafood dishes or light appetizers for an unforgettable gastronomic experience. Discover the quintessence of Alta Langa's viticultural vocation in every sip.
Denomination: Alta Langa DOCG
Vintage: 2017
Dosage: Zero
Grape variety: Chardonnay
Region: Piedmont (IT), Neviglie (CN)
Aging: 36 months on yeasts
Serving temperature: 8/10°C
Alcohol content: 12.5% ​​vol.
The Roberto Sarotto winery is located in Piedmont, in the heart of the Langhe, in Neviglie near the city of Alba. The company can count on 90 hectares of property in the most prestigious production areas of Piedmont, located in different areas: Ronconuovo (Neviglie) where the main winemaking and bottling cellar is also located; Novello, Barolo, Neive, Mango. In Gavi, however, there is a Cortese winemaking cellar for the production of Gavi from the municipality of Gavi. The winery's philosophy is particularly aimed at the needs of end consumers. The combination of tradition and modern winemaking techniques, together with the care of the vineyard, brings to light a balanced and pleasant wine while respecting environmental sustainability.