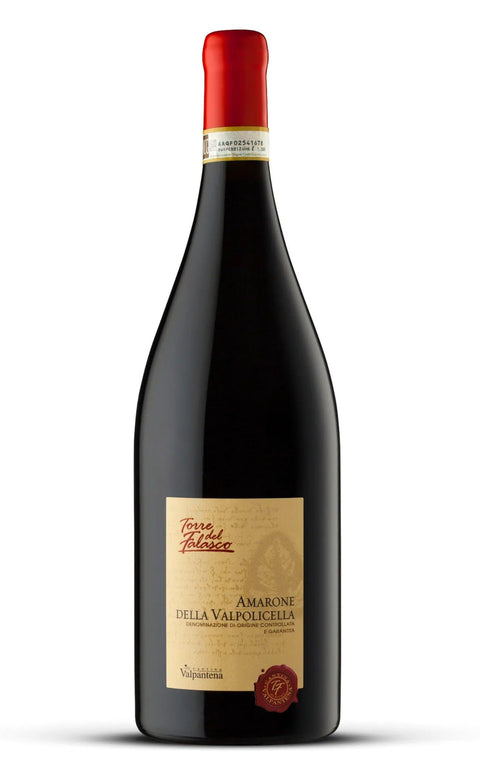 Amarone della Vapolicella Torre del Falasco DOCG 2017 Magnum - Cantina Valpantena
Exuberant Complex Elegant
What do we mean by these definitions? Click HERE to find out!
Amarone Torre del Falasco is a red Italian wine produced by Cantina Valpantena, a winery located in the Valpolicella region of Veneto.The wine is produced exclusively from Corvina Veronese, Corvinone, and Rondinella grapes, which are grown on medium-textured soils containing sand and clay deposits. Harvest takes place by hand in the first half of October.The grapes are left to dry for about 4 months, so that they lose water and concentrate the sugars and aromas. The winemaking process takes place in stainless steel vats at a controlled temperature for 15-20 days. The wine is then aged in Slavonian oak barrels for at least 2 years, followed by a further refinement in the bottle for at least 4 months.Amarone Torre del Falasco is an intense red wine with a deep ruby color. It has a complex aroma rich in red and black fruits, such as cherries, plums, blackberries, and blueberries. The taste is rich and enveloping, with robust tannins and good acidity.Amarone Torre del Falasco is a wine for aging and can be kept for many years. It is perfect with dishes of red meat, game, and aged cheeses.Amarone Torre del Falasco is a robust and structured wine, with robust tannins and good acidity. These tannins can be enhanced by dishes of red meat, such as filet mignon, New York strip, ribeye, and ossobuco. Red meat is rich in fat, which helps to balance the acidity of the wine. It can also be paired with game dishes, such as wild boar, venison, and deer. Game has an intense and rich flavor that goes well with the flavor of the wine. It is also excellent with structured cheeses and chocolate desserts. It can also be enjoyed as a meditation wine.
Denomination: Amarone della Valpolicella DOCG
Vintage: 2017
Dosage: Dry
Grapes: Corvina, Corvinone, Rondinella
Region: Veneto (IT), Quinto (VR)
Refinement: Barriques
Serving temperature: 16/18°C
Alcohol content: 15.5% vol.
Cantina Valpantena brings together about 250 members for 750 hectares of vineyards and over 150 oil producing companies in the Verona area. Today it represents a unique and well-established reality for quality in the Vapolicella area, in particular in the Valpantena area.
In the cellar, the skilful work of the members in the vineyard meets the most advanced winemaking technologies, giving life to wines of the highest quality and structure that fully reflect the magnificent territory from which they derive.